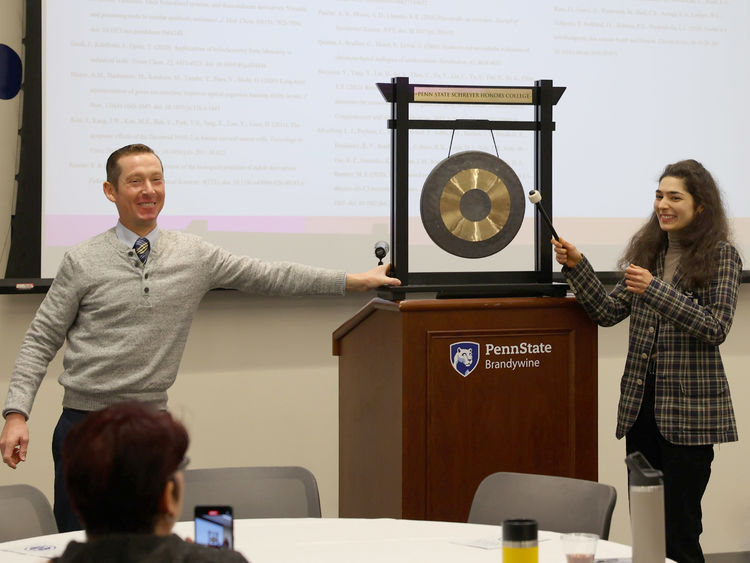 Name: Nora Margulis
Major: Biology
Minor: Psychology
Graduation Date: Dec. 17, 2022
Nora Margulis, who will receive her Bachelor of Science degree in biology at Penn State Brandywine's fall commencement ceremony on Dec. 17, reflects on her time as a student at Brandywine.
Margulis: "I chose Penn State Brandywine because it's close to home and I could commute there, and I could complete my major there. I liked that it was a small campus and the ratio of faculty to students was low, so I figured that it would help me connect with my professors. That did happen because I connected really well with my adviser (Associate Professor of Biology Elizabeth Dudkin), and then my research professor (Assistant Professor of Chemistry Anna Sigmon), and then other professors. I also chose Penn State in general because of the Schreyer Honors College.
The opportunities I've had for undergraduate research made me a much more confident student, and it made me feel valuable.

—Nora Margulis , Penn State Brandywine biology major
"The opportunities I've had for undergraduate research made me a much more confident student, and it made me feel valuable. I had a really good mentor who trusted me in a lot of things that I did. That greatly impacted me academically, and it made me just a more confident student in general. It also opened my eyes about research. I was never positive that I would be a researcher until I started doing research and I realized I really liked it. I found out that I had the patience for it, and it was really interesting for me. It kind of opened my eyes about my personality, as well.
"With research, I like that there's never a definitive answer. I feel like a lot of people might not like that about research, but for me, it's really interesting because you never know what you're going to uncover. You're constantly trying to uncover one thing, and then it uncovers a completely different thing. I'm making synthetic compounds, so I'm always trying to make something. In the end it's like, 'Did we make something new?' If we made something new, that's great. Well, what can that now do, and what can we do with that? It's a creative process, and I've always been a creative person, so I guess it's giving me that creative outlet that I've been craving throughout the academic experience, and it's kind of connected a few of my interests that way.
"My plans have shifted since I arrived at Brandywine. I came to Brandywine planning to go to medical school. I guess it's still a similar route, but now I want to go more into research. I still want to stay in the medical sphere. Since I've been doing a lot of research with synthetic organic chemistry, and that can be incorporated into pharmacology, I want to go into more of that route maybe with an M.D./Ph.D.
"After graduation, I'm taking a gap year, but during that year I want to hopefully continue doing research with Dr. Sigmon, and I also am thinking of doing some clinical work, maybe volunteering somewhere. Maybe I'll help at nursing homes or hospice or something like that. Something more involved with people, because I've been in the lab so much. After that, I plan to attend graduate school.
"I feel like there's so many favorite Brandywine memories. I really liked taking the neurodevelopment and physiology classes with Dr. Dudkin. I also liked, obviously, the research experience. I liked the summer research experiences that we had because we spent all day in lab. I attended a conference for B.E.A.S.T. (Brandywine Events and Activities Student Team). That was also an interesting memory, and one that I'll definitely remember. It was a three-day-long APCA (Association for the Promotion of Campus Activities) conference, so it's definitely a memorable one.
My advice to incoming students is that even if you have a plan or you think you have a plan, be open-minded about yourself and who you'll uncover along the way.

—Nora Margulis , Penn State Brandywine biology major
"My advice to incoming students is that even if you have a plan or you think you have a plan, be open-minded about yourself and who you'll uncover along the way because people change, especially when you're going in, you're only 18. You definitely don't know yourself. You don't know how you learn. You don't know how to study. You don't know what you'll like. I feel like being as open-minded and open to a lot of opportunities as you can, the better."