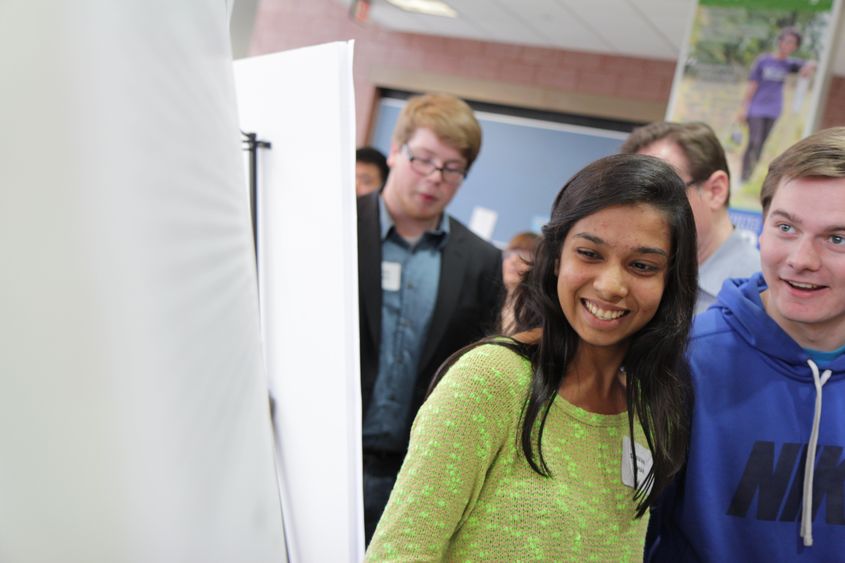 MEDIA, Pa. — Penn State Brandywine held its annual spring undergraduate research showcase, called EURECA (Exhibition of Undergraduate Research Enterprise and Creative Accomplishment), on Tuesday, April 14, in the Tomezsko Classroom Building. The annual event allows students to present their research and creative endeavors that they have conducted during their time at Brandywine.
This year's EURECA featured more than 20 poster presentations and one oral presentation from students in academic programs such as psychology, chemistry, information science and technology, human development and family studies and more.
The Social Science and Humanities Research Award was presented to senior human development and family studies major Lauren Lomas for her work, titled "Impact of Technology on the Parent-Child Dyad and Self-Regulation." This award recognizes a social science and humanities project that holds importance in the field of study and has a potential impact on the public.
Lomas, a Schreyer Honors Scholar, explained that her research looks at how parent-child interactions change when playing with traditional toys (such as building blocks) versus electronic toys (such as an iPad) and how the type of toy children play with impacts their ability to regulate their behavior.
"Research gets students more actively engaged in their educational experience as an undergrad," Lomas said. "I feel that this research really gave me an opportunity to personalize my academic experience."
Sophomore geography major Judy Smith received the STEM Research Award for her study, "Mapping Intercropping Research." This award honors a project that is in the disciplines of science, technology, engineering or mathematics and possibly holds significance to the general public.
Smith explained that intercropping (when two different plant species are grown in one field) has benefits such as reducing diseases and pests and increasing soil fertility. She created a detailed map, marking where intercropping research occurred, the plants and disease that were being studied, the result of each study and the reference for the study.
"The purpose of this project is to create a map so that farmers and researchers internationally can access spatially distributed information about what research has been conducted, where it occurred and the result of the study," Smith said.
The Enterprise Award, which recognizes an endeavor from any field, was presented to senior human development and family studies major and psychology minor Emily Murphy for her study, called "The Literacy Project."
Penn State Brandywine has been hosting EURECA for more than a decade and remains committed to providing its undergraduates the opportunity to conduct research in their respective fields of study.