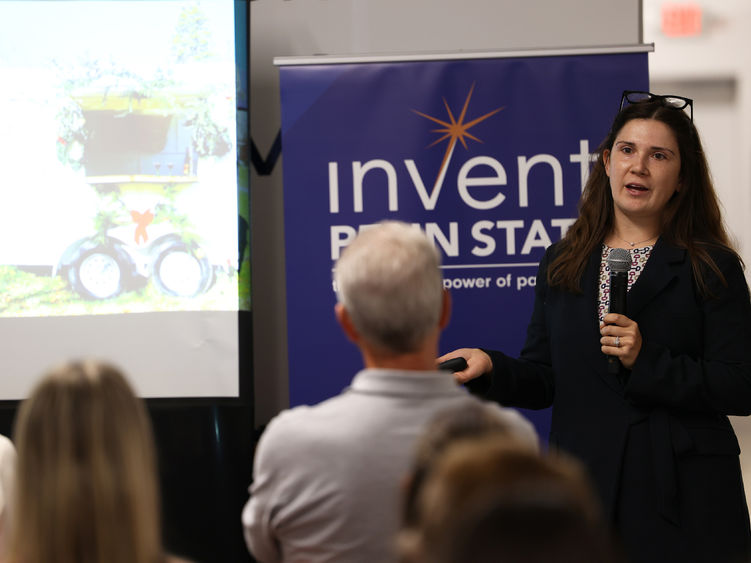 MEDIA, Pa. — A Penn State Brandywine alumna and a current student were the top two presenters in the Idea TestLab pitch competition hosted by the Brandywine LaunchBox on Nov. 7. They were among six participants who presented their entrepreneurial ideas to a panel of judges.
The Idea TestLab is a five-week business accelerator program for early-stage entrepreneurs who want to explore their scalable idea or address a customer problem for a potential business. The Idea TestLab is a "customer discovery" investigation designed to help entrepreneurs better understand the customer problem they are trying to solve and how to provide value in a differentiated way.
Participants must be in an early stage, which means they have already conceived of an idea and are ready to seek proof of concept and engage in a customer discovery process.
Olivia Shiner King, a 2017 Penn State graduate who earned a bachelor's degree in business, was awarded first place. King, who served as student government president while she was a Penn State Brandywine student, presented her concept for Polo Pony Cocktail Bar — a unique mobile outdoor bar in a converted horse trailer that would serve weddings, corporate events and private parties.
To have a chance to win, I just felt like I needed to be very honest with it and put it all out there because I was pitching my idea and my dream to grow this.

—Ashlee Catona , Penn State Brandywine student
Ashlee Catona, a second-year student at Penn State Brandywine, was awarded second place. She promoted her company Kodama, which creates anime-themed clothing with a particular focus on marketing to car enthusiasts. She said the idea came from her own interest in anime and the lack of authentic, affordable and quality clothing with an anime theme. She matched that with her interest in cars and car meets when she noticed a lack of anime-themed products at car shows. She also wants to increase the representation of women-owned businesses at car shows, which she said are typically male dominated.
Catona, who started a tie-dye T-shirt business in eighth grade and plans to transition to University Park to complete a degree in finance, said she participated in the Idea TestLab to increase her knowledge of entrepreneurship and see if she is on the right path with her business.
"I gained a lot of knowledge, and I definitely increased my networking skills," Catona said. "I learned about a lot of resources, too — data and websites that I didn't know I could have at my fingertips."
She said her preparation for the pitch competition included multiple practice sessions in front of her friends to refine her presentation.
"To have a chance to win, I just felt like I needed to be very honest with it and put it all out there because I was pitching my idea and my dream to grow this," Catona said. "I'm very thankful I got to participate. I would definitely encourage people to keep going and chase after their dreams. I don't want to look back and regret things and I'm sure most people don't either."
Catona said she would use her prize money from the competition to pay for supplies, marketing and advertising, and a website.
Judges for the pitch competition were Mo Paknejad, director of engineering at CTDI and a Penn State Brandywine Advisory Board member; Mark Trabbold, senior vice president of Ben Franklin Technology Partners of Southeastern Pennsylvania and a Brandywine LaunchBox Advisory Committee member; and Luna Yang, assistant professor of business at Penn State Brandywine.
Brandywine LaunchBox is a signature program of Invent Penn State, a commonwealth-wide initiative to spur economic development, job creation and student career success. At one of the University's 21 innovation hubs across the commonwealth, Brandywine LaunchBox provides programs and resources for early-stage entrepreneurs. The LaunchBox is located in Lansdowne at the Utility Works MakerSpace, which is operated by the Lansdowne Economic Development Corporation.
The next Idea TestLab program will begin in February 2023.