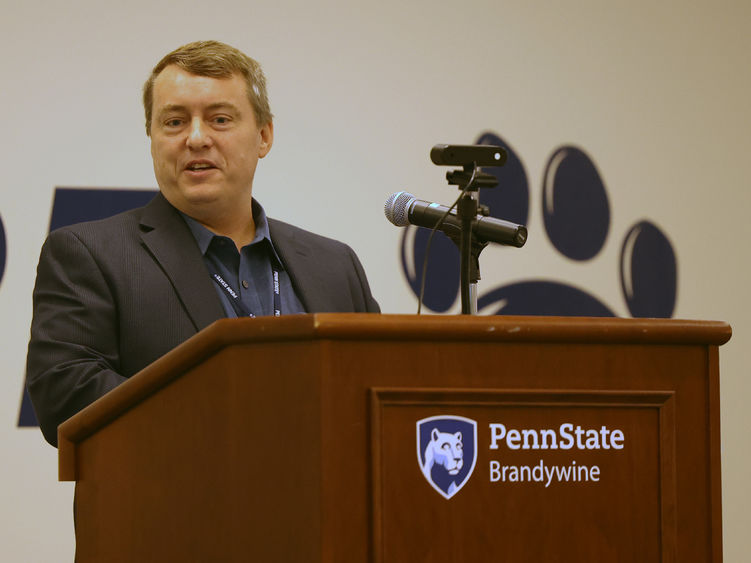 MEDIA, Pa. — Andy Landmesser, assistant teaching professor of information sciences and technology at Penn State Brandywine, was recently named the College of Information Sciences and Technology Statewide Faculty Member of the Year. He was presented with the award at the fall IST faculty meeting on Nov. 7.
The University-wide award recognizes outstanding faculty members from across the commonwealth who exemplify the mission of the college for improving the lives of people in Pennsylvania, the nation and the world, through integrated, high-quality programs in teaching, research and outreach. Awardees excel in their efforts to accomplish the school's mission and have an outstanding record of fostering leaders for a digital, global economy.
Landmesser credited his colleagues and their teamwork for his achievements.
"This should truly be a team award since only through collaboration with the IST faculty in the Commonwealth Campuses Cybersecurity Consortium and at Penn State Brandywine could we make our successes over the past year possible," he said.
Brandywine Chancellor Marilyn J. Wells noted Landmesser's commitment to student success and his significant campus involvement.
"Andy's students build their skills both in and out of the classroom, and especially noteworthy is the partnership he's created with global software firm SAP that has led to internship, undergraduate research and career opportunities for our students," Wells said. "He has also been a champion for women in the cybersecurity and information technology fields, and an advocate for veterans attending Penn State."
(Andy) most certainly embodies the College of IST's mission to 'foster leaders for a digital global economy' in his teaching, research and service.

—Alison Murphy , Assistant Professor of Information Sciences and Technology
In nominating Landmesser for the award, Penn State Brandywine Assistant Professor of Information Sciences and Technology Alison Murphy noted his commitment to his students, his colleagues and the campus.
"Andy is one of the most hardworking colleagues that I've had the pleasure to work with and he most certainly embodies the College of IST's mission to 'foster leaders for a digital global economy' in his teaching, research and service," Murphy said.
She noted that Landmesser was key to the campus recently launching its cybersecurity analytics and operations major and said he frequently brings his military and industry experience into the classroom to provide students with problem-based learning examples of how cybersecurity is used in real world situations.
"This not only better prepares our students for situations they will encounter, but I've also heard students describe how his real-world examples make them excited about their careers after college," Murphy said. "Additionally, in the last year, Andy also led two guest lectures on campus where he shared his cybersecurity experience and expertise within the context of important world-wide events, like the use of technology in Russia's invasion of Ukraine."
Landmesser built and continues to foster a rewarding relationship with SAP, which supports Brandywine's SAP Next-Gen Lab. This year, he secured SAP funding for two summer undergraduate research projects, which provided award stipends for the six students whom he was advising on the projects.
This fall, Landmesser and Lecturer in Information Sciences and Technology Nannette D'Imperio planned and led the first Penn State Brandywine-SAP Cybersecurity Conference, which attracted 170 attendees to in-person and virtual sessions.
Landmesser earned a bachelor's degree in computer science at Drexel University, a master's degree in computer science at Villanova University and a doctorate in information systems at Nova Southeastern University in Florida. He joined Penn State Brandywine in 2017 and teaches classes in cybersecurity, information technology, and security and risk analysis. He also coordinates Brandywine's SAP Next-Gen Lab, providing students with research opportunities to solve client problems using information technologies, business strategies and engineering techniques in innovative ways. His research interests include enterprise integration, cloud computing, information security, software architecture and decision support systems.
Landmesser also chairs the campus' Academic Integrity Committee and Commission on Veteran and Military Success, and he is the faculty adviser for the IST/SRA Club. Prior to joining Brandywine, Landmesser was an associate professor at Valley Forge Military College and he served in the U.S. Army from 1986-2011.