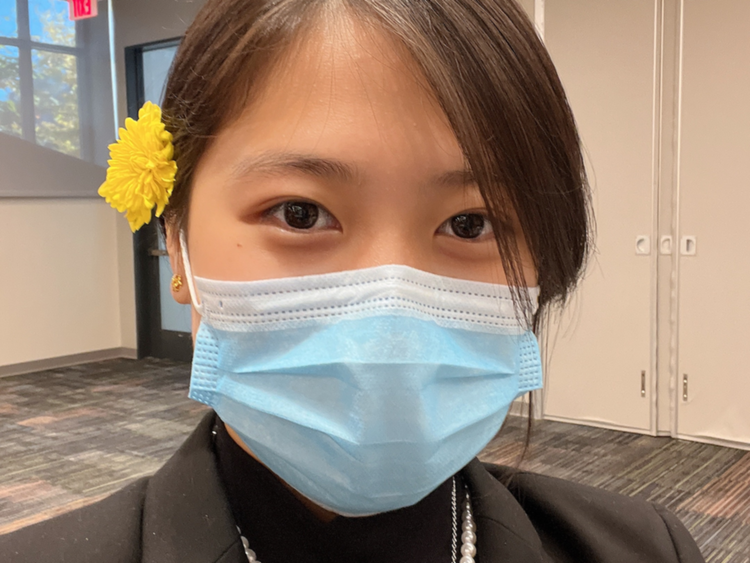 Major: International business
Year: First
Involvement: Member of Multicultural Club, member of Community Engagement Club, member of Lion Pride, library assistant at the Vairo Library, office assistant at Advising and Career Services, assisted in the Office of Multilingual and International Student Programs
Brandywine: Why did you choose Penn State Brandywine? 
Zhang: I chose Brandywine because it was close to my home in Maryland, and I like the small campus setting.
Brandywine: How did you choose your major? 
Zhang: I've always been interested in studying business because my parents own a business — I look up to them. I wanted to go into international business because I'm Asian American (my parents are from China and Indonesia), and I'm very interested in the world and how other countries do business.
Brandywine: What challenges have you faced at Brandywine? 
Zhang: I've never been away from home or my family before, so I became homesick. I'm very close to my family. I have a twin sister. We've never been apart and now we're a few hours apart. Since she goes to a different school, I don't get to see her a lot, but we message each other every day.
Brandywine: How has Brandywine supported your efforts? Who at Brandywine has supported you? 
Zhang: My friends and co-workers have been supportive of me. My friends and I like going to all of these events that Brandywine holds. My co-workers are very understanding when I want to go to events during working hours.
Brandywine: What made you decide to get involved in the Office of Multilingual and International Programs at Brandywine?
Zhang: I knew some people in the program before joining, and I knew they held a lot of events. Since I joined, I've helped with the programming, especially since they work a lot with a Multicultural Club. I just joined as the co-chair of publicity in the Multicultural Club, too.
Brandywine: What's your favorite part about being involved with multilingual and international programs?
Zhang: My favorite part is getting to know all the people there. Everyone is so great, and you get to have a lot of fun with them while planning and going to events. We traveled to Philadelphia and New York as a group. It was really cool because before that, I had never gone to places on my own.
Brandywine: What have been your greatest accomplishments at Brandywine? 
Zhang: One of my greatest accomplishments is how involved I became as a first-year student. I think it's great to be involved on campus. I've been able to make a lot of friends, go to so many events, and get jobs on campus because of my involvement.
"My extracurricular activities really made me feel more at home."

—Victoria Zhang
Brandywine: How have your extracurriculars impacted your time on campus? 
Zhang: My extracurricular activities really made me feel more at home. If I was just doing my studies, I would be longing to go home. I really enjoy being here — being so involved in my extracurriculars makes it feel more like a second home.
Brandywine: What has been the most valuable lesson you've learned at Brandywine? 
Zhang: The most valuable lesson I've learned is to put yourself out there. I didn't think I would make as many friends as I did if I didn't put myself out there and get involved, because I'm a very quiet person. I never had that many friends back home. I just had one really good friend. Now, we have a group chat of 17 people, and it's not even everyone in our friend group. I think it's great to have that kind of support system and people you can talk with and go through things with.