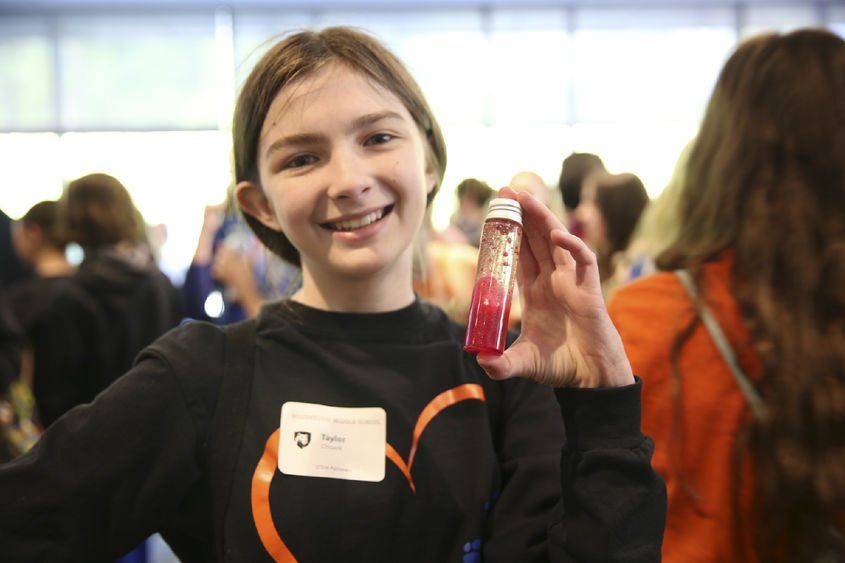 MEDIA, Pa. — Penn State Brandywine recently hosted nearly 200 local middle- and high-school students for STEM Pathways, a one-day career exploration program. The May 10 event gave students from the Greater Philadelphia region an opportunity to explore STEM fields through activities and interactions with Brandywine faculty and other professionals.
The program began with exhibition tables featuring make your own test tube lava lamps, mathematical arts and crafts, mathematical bubbles, make your own reusable bag from old T-shirts, and microscope slides, as well as a STEAM art exhibit featuring science art made by Penn State faculty and students.
Students then went to two breakout workshops lead by Penn State Brandywine faculty and other professionals in STEM fields. Workshop topics included: Fun Experiments with Liquid Nitrogen, led by Anna Sigmon, assistant professor of chemistry; Chemiluminescence, led by Tracy Lea-Dorsey, science lab coordinator; Bolt Robotic Programming, led by Martin Yeh, assistant professor of information sciences and technology; and a Biodesign workshop led by representatives from Aula Future.
Three keynote events, which also were available virtually, featured Science at Sea by Laura Guertin, distinguished professor of Earth sciences, connecting live from a research ship; a presentation by Carlos Smith, associate professor at the Virginia Commonwealth University School of Dentistry, called "My STEM Story: Like Pulling Teeth and Beyond"; and a panel discussion by the nonprofit organization Black in Marine Science. The Black in Marine Science panelists were Symone Barkley, Leslie Townsell and Alex Troutman. They discussed their experiences as members of underrepresented groups in the field of marine sciences.
Students who participated in the STEM Pathways program received gift bags with Penn State giveaways and STEM educational materials such as robotics kits and digital microscopes.
"It was amazing to see our STEM youth programming back in person," said Samantha Pezzimenti, associate teaching professor of mathematics and an event coordinator. "Spirits were incredibly high and students were so eager to ask questions and get to know our panelists and workshop presenters. I especially love seeing the work that students complete in the exhibit tables — everyone was very excited to show off their lava lamp!"