More than 90 graduates received their bachelor's degree while 2020 graduates were also celebrated during the May 7 ceremony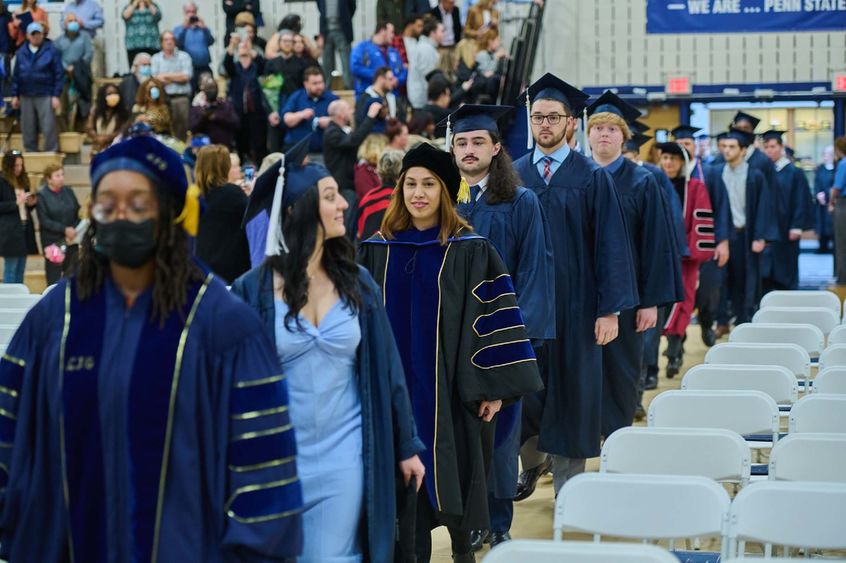 More than 90 graduates received their bachelor's degree at Penn State Brandywine's spring commencement ceremony on Saturday, May 7 in the campus gymnasium. The event also included a celebration of 2020 graduates, who did not have an in-person commencement ceremony due to the pandemic.
"Commencement is one of the greatest days in the life of a university. Commencement is also a memorable day in the lives of all our graduates," Chancellor Marilyn J. Wells told the new Penn State graduates and their guests. "Each generation has its defining moments, and for you, completing your world-class education, undergraduate research, community service, sustainability projects and internships at leading corporations through the pandemic is your defining moment."
"You exemplify our vision — 'Penn State Brandywine will be a leader in student success, known for educating students to become valued professionals, leaders, creators, alumni, and citizens,'" she added.
The graduating student addresses were given by Vidhi Dwivedi, who earned a bachelor of arts degree in communication arts and sciences, and Himani Vommi, who earned a bachelor of science degree in cybersecurity analytics and operations.
Dwivedi spoke of letting go of rigid expectations and embracing the unknown.
"Although we may be lost in life, we are all actively moving forward in uncharted territories, molding our identities, building upon our resiliency, and making choices that no one else has ever made," Dwivedi said. "We have always been told that we must know what to do, but by being lost in life is when we truly know what we want to do."
Vommi shared the challenge of navigating between the culture of her immigrant parents and her current environment.
"As many of us here can relate, growing up in the U.S. to immigrant parents presents a unique challenge — we have to pick and choose how much of our parent's culture we keep, and how much we take from our school, our friends, and the environment around us," Vommi said. "For the first time, thanks to Brandywine, I was able to celebrate my culture with other students from around the world by helping put together wonderful Holi and Diwali celebrations."
After the students' remarks, Wells and Assistant Director of Academic Affairs Patricia Hillen conferred the degrees.
Hillen then recognized the graduates in attendance from the Class of 2020.
"We are happy to host them on campus, and reunite them with the faculty and one another," she said. "Recall that these adults were students who had completed several years of studies, were actively involved in athletics, student organizations, campus jobs, completing internships — and then with just seven weeks left in the spring semester, they were notified that we were all required to vacate the campus."
"Many things can change in two years," Hillen added. "The Class of 2020 has not sat on their laurels. They have been out in the world, building careers and developing networks. At long last, we can celebrate them appropriately for their successes."
In his closing remarks, former Student Government Association President Matt Wickel talked about how much he developed and grew while a student at Brandywine.
"In 2018, as a homeschooled senior, college was intimidating for me," said Wickel, who earned a bachelor of arts degree in communication arts and sciences. "The faculty and staff at Brandywine made this place feel like my home, though. I will always cherish the memories that this community has given me. And as I move on to the next chapter, I will fondly remember my chapter that concludes today."
As the ceremony opened, Andrew Orr, who graduated with a bachelor of arts degree in American studies, talked about the U.S. flag on stage as well as the international flags displayed around campus that represent the nationalities of Brandywine students.
Other student speakers were Laila Boujida, who earned a bachelor of science degree in biology, and Erin McCarrie, who earned a bachelor of arts degree in communication arts and sciences.
Penn State Brandywine, with 1,300 students, is a residential campus offering 15 baccalaureate degrees and the first two years of nearly all of Penn State's 275+ majors.