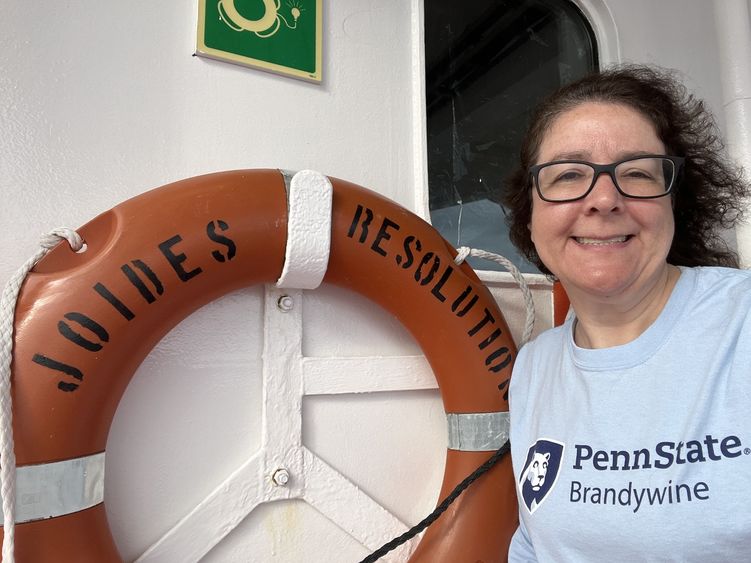 Penn State Brandywine, in collaboration with Tyler Arboretum, commemorated Earth Day on April 21 with its annual Nature Narratives writing contest awards ceremony. Open to students, faculty, staff and the community, the competition encouraged writers to express their thoughts about nature using any genre they prefer.
Penn State Brandywine Chancellor Marilyn J. Wells and Heather Saunders, Tyler's board of trustees president, opened the awards ceremony and welcomed guests. Laura Guertin, distinguished professor of Earth sciences and Nature Narratives coordinator, joined the event virtually from the scientific research ship JOIDES Resolution in the South Atlantic Ocean, where she is conducting research. She read the IODP Expedition 390 haiku written especially for the ceremony and give the audience a tour of the ship via Zoom.
"Nature Narratives weaves together our unique values at Penn State Brandywine — connection, equity and sustainability," Wells said in her welcome. She mentioned that the event is one that brings the campus and community together with writers of all ages to celebrate the gifts of both nature and writing, making it an event to look forward to each year.
Saunders expressed her appreciation for the arboretum's collaboration with Penn State, noting "Tyler's mission to share our heritage, collections and landscapes to create and inspire stewards of the natural world makes this event a mutually beneficial partnership."
At the awards ceremony, winners read their poetry and short story submissions.
In the adult category, Alison Murphy's "Among The Snowy Pines" was the winner and Helen Pitts' "Nature Comforts" was runner up.
In the youth category, Kiera Wilkerson's "Soles" won the middle school category and Annilyse Jones' "The Plover" won the elementary school category.
Pam Mitchell's story "The New Species in the Yard — Me" won the People's Choice award.
Contest winners will have their work featured on the Tyler Arboretum StoryWalk this spring. Additionally, all entries are submitted for distribution through Penn State Brandywine's short story dispenser. The short story dispenser, located in the Vairo Library on campus, provides no-cost, brief reading opportunities. Stories are dispensed for either 1-, 3- or 5-minute reads as chosen by the user.
More information about the writing contest, including all of this year's entries, are available on the Nature Narrative website.