University's incoming leader engages with students, faculty, staff, alumni and community partners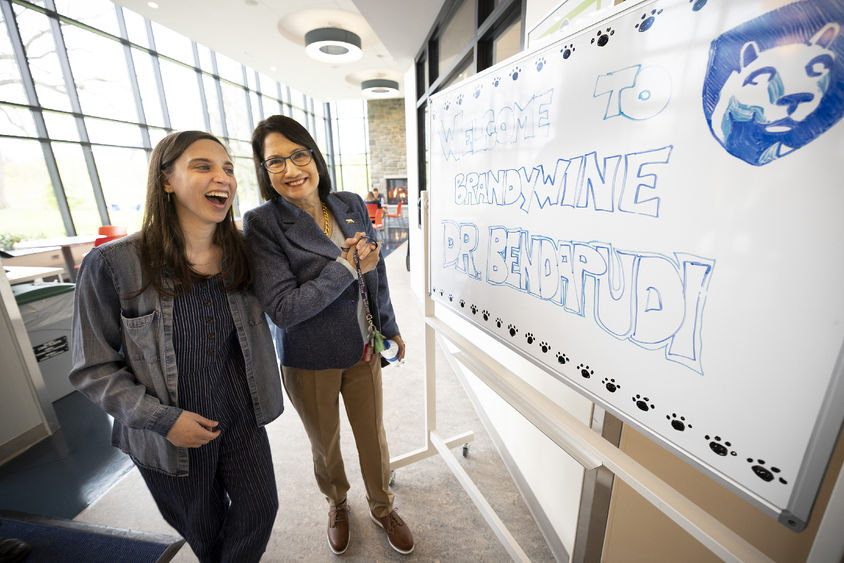 Editor's note: This spring, Penn State President-elect Neeli Bendapudi is traveling the commonwealth as part of a listening and learning tour to meet and engage in conversations with students, faculty, staff and community members at each Penn State campus.
Penn State President-elect Neeli Bendapudi visited Penn State Brandywine on May 2 as part of her listening tour to meet with students, faculty and staff across Penn State's campuses. During her tour stop, President-elect Bendapudi shared that the Commonwealth campuses were one of the primary reasons she was drawn to the University.
"From Day One I said there were two things about Penn State that made it really attractive to me compared to other big research universities," Bendapudi said. "One is the Commonwealth campuses. The Commonwealth campuses make us truly unique in the entire country. There is no other educational institution like this — 96% of our population lives within 30 miles of one of our campuses."
She also stated she is excited about the opportunity to build on the University's relationship with Penn State Health and the Penn State College of Medicine.
As she met with faculty, staff, students, alumni, members of the campus advisory board and community leaders, Bendapudi emphasized her commitment to teamwork and collaboration.
"It's 'we are' and it's not 'I am,'" she said. "We're only as strong as the teams and the communities we build. My job is to open doors for a lot of people and I will always remember that I will be judged based on what I do for all of us."
She also shared what she called her "ABCs of success": Ensuring Academic preparedness for students, instilling a sense of Belonging for all members of the Penn State community, and providing access and affordability by managing the Cost of education.
Following her listening sessions, Bendapudi toured the campus with junior biology major Dana Hallahan, president of Brandywine's Lion Ambassadors, and Brandywine Chancellor Marilyn J. Wells.
"Dr. Bendapudi is a confident and charismatic leader while also approachable to students so they can express their thoughts and ideas."

—Dana Hallahan , Penn State Brandywine student
"It was an honor to spend the morning escorting and touring President-elect Bendapudi around Brandywine's campus," Hallahan said. "Dr. Bendapudi is a confident and charismatic leader while also approachable to students so they can express their thoughts and ideas. Through our conversations, I can tell that she is committed to furthering the University's success and is ready to advance the goals and mission of the Penn State community."
About President-elect Neeli Bendapudi
President-elect Bendapudi will begin her tenure as Penn State's 19th president on May 9, 2022. With a nearly 30-year career in academia, Bendapudi previously served as president of the University of Louisville. Among her leadership experiences, she also has served as provost and executive vice chancellor at the University of Kansas, dean of the School of Business at the University of Kansas, and as founding director of the Initiative for Managing Services at the Ohio State University.
In addition to consulting for some of the world's largest companies and organizations, she was the executive vice president and chief customer officer for Huntington National Bank. With a research background in the study of consumer behavior in service contexts, she has taught marketing at a variety of higher education institutions and been recognized for her leadership, academic and teaching accomplishments. Bendapudi earned her bachelor's degree in English and master of business administration degree from Andhra University in India and her doctorate in marketing from the University of Kansas.