Student Spotlight: Rabia Rafiqzadah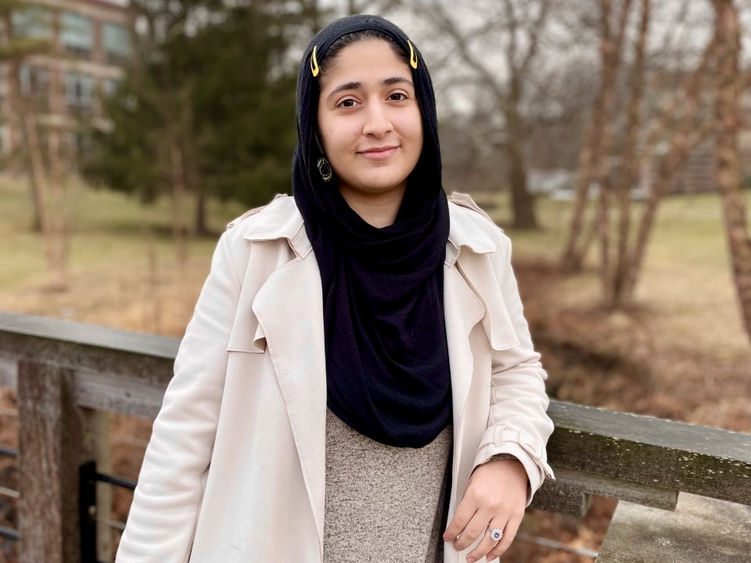 MEDIA, Pa. — Rabia Rafiqzadah would not describe herself as an extrovert.
"Honestly, I'm a really shy person," Rafiqzadah admitted.
Which makes it that much more incredible that in the fall, the Penn State Brandywine junior found herself welcoming thousands of incoming first-year students throughout the Penn State campuses.
"What I expected was to be a new student orientation (NSO) leader of just Brandywine, but then COVID happened," Rafiqzadah explained. "So then that small thing turned into me mentoring thousands of students across campuses, because we did this huge virtual thing.
"I got to be an NSO leader and not even just for this campus, but across all campuses, which was super cool. I learned things about other campuses that I would not have learned if I never did that. Because of that, I've decided to stay here and graduate from here," Rafiqzadah said.
Rafiqzadah had originally come to Penn State Brandywine intending to participate in the 2+2 program, but now the communications major is planning on remaining at 25 Yearsley Mill Road for the duration of her four-year degree.
Rafiqzadah credits her own early experiences at Brandywine with helping her find a home here on campus. As a first-year student, she benefited from New Student Orientation, the Cubs to Lionz Mentoring Group, and also participated in the pilot of the first-year seminar program.
"The first day of school I felt so much more prepared than the average student who would not have taken that course and because of that, I was able to help out other freshmen," Rafiqzadah described.
"I stepped out of my comfort zone by this much and then it just went all out from there," Rafiqzadah said.
"I was more familiar with the campus, with the professors and I feel like that definitely did help and then it also helps that it's a small campus, so you get to develop those one-on-one relationships," Rafiqzadah explained. Rafiqzadah noted that Kimeta Straker, coordinator of student success, and Christine Brown, associate teaching professor and coordinator of the Brandywine Learning Center, have been two of the meaningful connections that have helped her through her Brandywine experience.
"Dr. Brown and Kimeta have always been really helpful and encouraging," Rafiqzadah said. "Their support just made me that much more comfortable and the experiences they gave me, I've loved being able to pass them on to other students."
It was that desire to help other students have a similar experience that prompted Rafiqzadah to get involved with NSO and peer mentoring in the first place.
"I hope this doesn't come off as selfish," Rafiqzadah said, "but it just makes me feel so good to be able to help these incoming students. I know myself, I would never ask for help and would always deal with things on my own if I could. So when I see these new students, I can tell who's struggling, I can recognize things in them that I've seen in myself and offer to help them."
Rafiqzadah explained that when Brown first told her about peer mentoring, "I thought 'this is great because I can share my wisdom with other students.'" At the time, Rafiqzadah noted, she was only a year older than the incoming freshman, "but I swear, I have so much to offer. And so I kind of went out on a limb on that and it honestly turned into something super great."
It was Brown who helped Rafiqzadah discover the communications major. "Honestly, I love it," Rafiqzadah said of her course of study.
"I originally started out as a marketing major," Rafiqzadah explained, noting how she struggled initially with the statistics the major required.
"I talked to Dr. Brown about it and she was the one who told me about communications," Rafiqzadah said, noting how "it's similar, just no math."
"So I feel like just being able to go to a professor you trust and share what you're going through means so much. You'll say one thing to your professor and they'll give you back 10 solutions in return and that's just something that I really love about this place," Rafiqzadah said. "I feel like having these small things like having professors I could trust, really did help me take those risks and go out on those limbs that really turned into something amazing.
"And then I went out on a limb again and tried something I normally wouldn't do applying for this leadership position where I'm bestowing myself, my experience and stuff amongst the younger students," Rafiqzadah said, describing how she found herself applying to be a NSO leader for Penn State Brandywine and was delighted to be one of the few chosen.
When the challenges posed by COVID-19 provided the opportunity to step up to a University-wide NSO leadership role, Rafiqzadah described feeling prepared based on all the steps she'd already successfully taken outside of her comfort zone.
"Doing these small things, that I went out on a limb on, turned into something so marvelous," Rafiqzadah said. "So it definitely did help me become more responsible and pushed me so far out of my comfort zone to a place where I instead have this new, bigger, comfort zone. It honestly turned into something so nice and I feel like it's a ripple effect, I learned so much that made me comfortable and it helped make me into who I am today.
"If I help these newer students, then when they get to their third year, even sophomore year and see the new freshman coming in they could be like, 'let me pass on Rabia's wisdom.' Then it gets passed on for generations. That's the goal, to help each other from generation to generation."
Interested in applying to help the next generation of Penn State Brandywine students? The application for orientation leaders is now open. Visit this link by March 9 to apply.