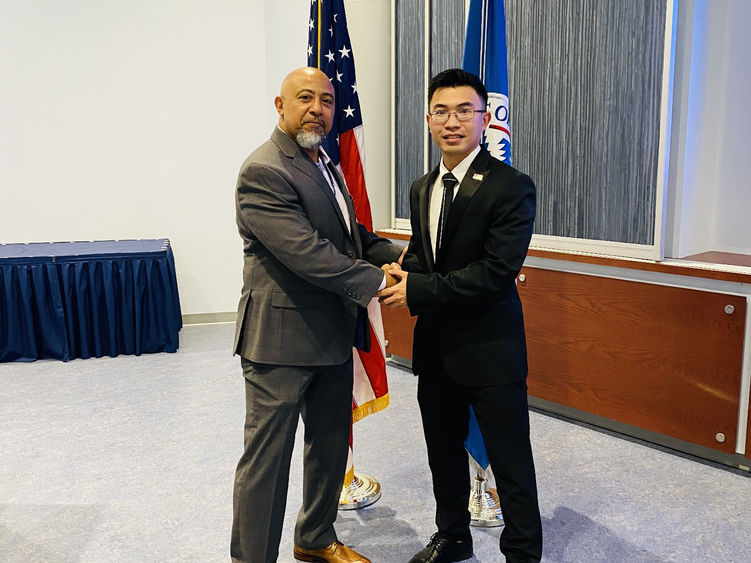 Hoang Phan, the first Penn State Brandywine student to graduate with a degree in cybersecurity analytics and operations, wasted no time in starting his career in the field.
Speaking of Phan at commencement on Dec. 18, Chancellor Marilyn J. Wells noted "our very first graduate in cybersecurity analytics and operations is already training for his new position with the Department of Homeland Security and therefore is unable to join us today. This degree prepares students to protect digital information from attack through cyber-defense strategies, and Hoang is already at work protecting us."
"That is my one piece of bad luck," Hoang said, describing how he was disappointed to have to miss graduation.
Aside from commencement, however, Phan sums up his time at Brandywine in one word: "perfect." 
"I had a really good experience with Penn State Brandywine for sure," Phan said. "Everything went right, all of my experiences until graduation."
Phan's Penn State story began with one especially helpful staff member who assisted him when he first visited Brandywine in 2015. As Phan describes it, he navigated a complicated path to become a Nittany Lion.
"I am Vietnamese and I came to the United States in 2013, so I couldn't join Penn State straight away," Phan explained.
"At that time I didn't have an educational record. I had to go around, get my GED, study at Community College of Philadelphia (CCP), get a good record and transfer to Penn State," Phan described. 
"The first time I came to Penn State Brandywine, I worked with an adviser. She put the first brick in place to build the whole path I have right now," Phan said.
This adviser helped Phan navigate the transfer credit tool.
"I followed it and got most of my credits from CCP transferred to Penn State," Phan explained. 
For Phan, being able to transfer to and ultimately graduate from Penn State was a major accomplishment.
"I am really proud to graduate from Penn State because Penn State is a family tradition," Phan said. Phan's aunt, who is a Penn State alumna, was the one who first recommended he apply.
"She told me they have a cybersecurity major in Penn State," Hoang explained, noting that at the time the major was only available at University Park or Berks. When he enrolled at Brandywine, Hoang had planned to do the 2+2 program so he could graduate with his desired degree in cybersecurity.
"After my first year at Penn State, my adviser told me Penn State Brandywine had added the major, so that was perfect. I joined right away," Phan said.
Phan's adviser, Assistant Teaching Professor of Information Sciences and Technology Andy Landmesser, said Phan is one of several students who have benefited from Brandywine offering the cybersecurity major. This spring, four more of the program's graduates will cross the commencement stage.
As Landmesser explains, being able to complete their degree here at Brandywine has provided the students with unique opportunities, and they are taking full advantage.   
"All of them thought they were going to have to go to University Park, but it was great that they were all able to stay, because they're all doing great things," Landmesser said.
Landmesser detailed the many success stories of these inaugural cybersecurity majors, including Himani Vommi, who recently turned an internship at Lockheed Martin into a full-time job offer. 
"I'm getting to help her with her Schreyer Honors thesis now because she stayed at Brandywine," Landmesser said, noting that being able to complete her cybersecurity degree here also enabled Vommi to continue her work at Lockheed Martin part time while she finishes her degree this spring.
"And then Andrew Hallet, this summer he worked at Meridian Bank as an intelligence analyst and they asked him to stay part-time for his senior year," Landmesser added. "It's a great set of initial students that we have."
Describing the opportunities available to students who pursue the cybersecurity major, Landmesser noted a myriad of impressive possibilities, from entering public service through agencies like the Department of Defense to conducting intelligence analysis for private corporations.
"It pretty much ranges in just about anything that you want to be able to do," Landmesser said.
Phan has always been drawn to public service because of growing up in a military family. He got his foot in the door with his first internship with the Navy for the Department of Defense. It was friends he met during that internship who recommended Phan pursue his top security clearance, ultimately leading him to his current position.
In the future, Phan hopes to return to Penn State to earn his master degree.
"I will try my best to come back and earn a master's degree in Penn State for homeland security," Phan shared, explaining that once he finishes his training in May he can apply for scholarships through the Department of Homeland Security and "come back to Penn State."
"I definitely want to come back," Phan said, emphasizing again how perfect his experience at Brandywine was.
"Penn State Brandywine definitely helped me a lot," Phan offered, noting that his first language is Vietnamese.
"English is not my first language," Phan explained. "For me, my language is a barrier."
Phan credits Landmesser, as well IST faculty members Nannette D'Imperio and Martin Yeh, with being incredibly supportive as he navigated this additional hurdle.
"My professors were really patient explaining things to me, especially my adviser, he was so patient putting me on his schedule and helping me take the right steps," Phan said.  
It was Landmesser who suggested to Phan that he pursue his minor in homeland security.
"To be honest, until he recommended it to me I didn't even know I could pick a minor in homeland security," Phan said. "It's different from my major but it helps support it."
"I jumped for the cybersecurity major because we can work for private companies or for the government and I chose the government. With all the security and law enforcement, it relates to homeland security and it's helped me a lot with my job because it is for law enforcement," Phan said.
Landmesser gave Phan all the credit for navigating his various course requirements and pursuing the courses he needed to complete his cybersecurity major and homeland security minor.
"I pointed him in the right direction, but he had to do the work to schedule them out and fit them in with the courses he needed," Landmesser said. "He really wanted that homeland security minor with the cybersecurity major, and it paid off for him in the long run."