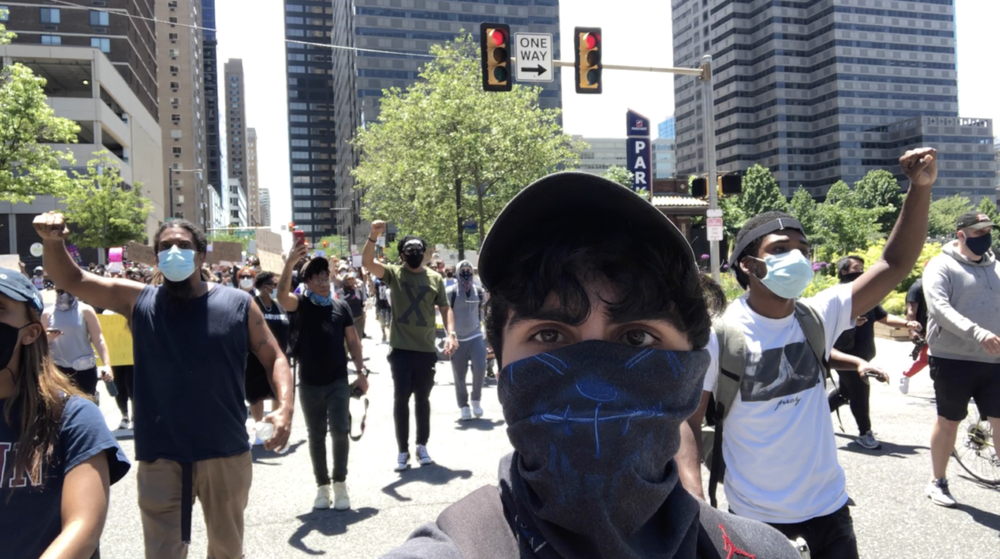 Jacob Mejias, a Penn State graduate who attended Brandywine, recently participated in a virtual discussion and preview of his documentary "Wake."
"Wake" follows the racial protests in Philadelphia in the summer of 2020. The film sparks important discussions surrounding reported systemic racism and inequalities minorities face in America.
As part of Brandywine's week of MLK programming, Mejias participated in an "alumni in action" conversation with Vippy Yee, Rosenberg Director of the Center for Ethics & Civic Engagement. During the event, Mejias shared a trailer of the documentary and offered some insights ahead of its February screening date.
Mejias created "Wake" during his time at Penn State Brandywine and credits an experience he had in Assistant Teaching Professor of Communications Karen Theveny's class. "We had an assignment to create a documentary and I decided to do mine on the various buildings around campus. So I started working on it and during that process I found I really enjoyed just working on all the different aspects of filmmaking," Mejias said. "After it was done I was like 'yeah, I could see myself doing something like this for something else I'm passionate about … that could really make a difference in the world.'"
As Mejias described, "George Floyd's death really opened my eyes to how permissible society can be and how easy it is to overlook a lot of the things that happen every day in this country. And when I thought about that and I realized what I hadn't known for all these years, I was like, 'all right, well, I want to do something about it. It's something that I think should be talked about. I want to give people a platform to speak.' The first thing I thought of was making a documentary because I love film-making."
"George Floyd's death really opened my eyes to how permissible society can be and how easy it is to overlook a lot of the things that happen every day in this country."

—Jacob Mejias , a Penn State alumnus who attended the Brandywine campus
Further explaining what drew him to this specific project, Mejias said "the biggest thing that drew me is just humanity. Wanting to educate people on these issues without necessarily picking a side or giving people a bias. What was important when I was making this and first getting into it was I wanted it to be something that I can share with people, something that can stand the test of time and something that can be used within educational systems so that people can grow from this."
Mejias himself learned a ton through the process of creating "Wake," something which he explained shines through in the film. "In reality, this documentary shows what I've learned through all this civil unrest and through the pandemic and everything that's happened in this country. This documentary is in essence a little piece of every topic that I've gone over or educated myself on or learned more about. I want to share that with the community and with people so that they can get something out of it too. Maybe then we can all be on the same page so we can start moving forward and we don't have to keep marching for the same reasons," Mejias said.
Mejias describes the underlying themes of the film as "Systemic racism, the police brutality that goes on in this country, and overall just the inequality when it comes to the educational system, when it comes to the prison industrial complex. There's a lot of different systems in place in this country that I don't believe are fair systems and there's plenty of evidence for it."
To delve into these complicated issues, Mejias followed the development of a protest in Philadelphia prompted by his friend, Joshua Yeboah-Gyasi.
"My friend decided that he wanted to take a knee in front of City Hall. He posted it on Twitter and slowly but surely people were wanting to tag along," Mejias explained. Yeboah-Gyasi was able to connect with organizers of other events and build a peaceful protest. "It was just such a surreal experience having the protest go from like 15, 20 people at the start to 50 people to a hundred people, to 300, to a thousand to thousands of people," Mejias said.
Beyond detailed coverage and moving interviews from the protest, Mejias also worked expert commentary into "Wake," including interviews with Brandywine faculty members Angela Putman, associate professor of communication arts and sciences, and Marinda Harrell-Levy, associate professor of human development and family studies.
Asked by a student participant what he hopes viewers will take away from the upcoming screening, Mejias responded: "to take action in their own way."
"Whatever way that is, you don't have to change the world. We're not asking you to take on a huge project or start a nonprofit. Whatever it is that works for you, as long as it's something that's sustainable and something that is used to give back to the community."
Mejias said he was honored to be able to return to Brandywine and give back to the community through his film. "I think a lot of these topics don't get talked about often enough so knowing that and bringing that back to this community makes me really happy," Mejias said.
Screenings of "Wake," including panel discussions of the film, will be held on Brandywine's campus in early February. A special screening for students is scheduled at noon Thursday, Feb. 3, in the Student Union. A community screening will take place at 6 p.m. Thursday, Feb. 10.
Details, including snow dates and registration, are available online.