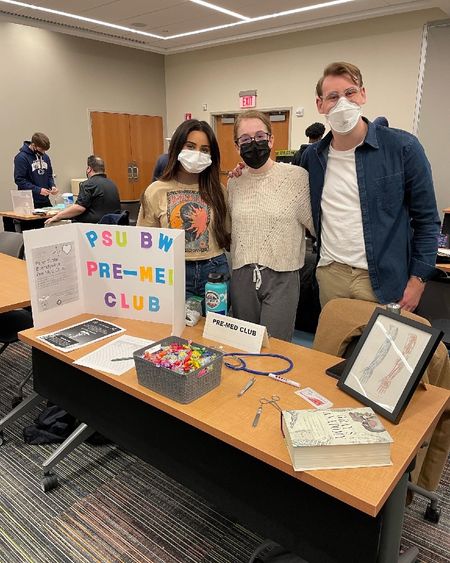 MEDIA, Pa. — Student organizations from across campus gathered in the Student Union on Jan. 20 to participate in Penn State Brandywine's spring involvement fair. The fair takes place each semester and is designed to give students a chance to get to know the different organizations on campus and connect with clubs that match their interest.
Students in attendance at Thursday's event included representatives from organizations ranging from those focused on career planning, like the Accounting and Pre-Med clubs, to those focused on service and community building like the Paws & Claws Club and Black Student Union.
Angel Asomugha, a junior, was at Thursday's fair representing the Black Student Union and was encouraged by how many people had signed up at their table.
"It's awesome, it's a great feeling knowing that more students are interested in joining our club, just for them to know that we have such a huge presence on campus, just so they know they're not alone," Asomugha said.
"Really my goal is to make notice of social injustice and people of color and have a safe space for them," explained first-year Brandywine student Amaya LaToison, who was helping to gather signatures and spread awareness. "Just for our Black students to have a voice and for them to feel included and welcome in our campus," Amaya said, is critical. 
Reflecting on the number of people attending the involvement fair Thursday, LaToison noted the potential of the new connections being formed.
"Seeing new people, you can introduce yourself, make new friends that way, you have a bigger group and people can actually connect on a different level and make friends for a lifetime," LaToison said.
After the disconnect created by the COVID pandemic, many student groups were enthusiastic to gather in-person safely, and felt optimistic about what's to come.
"We had a really big turnout last year and we were really excited to get it started, but unfortunately with uncertainty of schedules we lost a lot of members, so I'm really looking forward to meeting some new people and hopefully getting some new volunteers for our Monday volunteer work," said Elisa Geranios, Brandywine sophomore and Paws & Claws club president. "From college during COVID and not getting to experience this, I had no idea what to expect, but seeing such a big turnout today it means a lot that people are trying to get back out there and socialize and get involved in their community with these clubs."
Matthew Wickel, a senior and Brandywine SGA vice president, and Nicole Jiminez, a sophomore and current SGA president, were encouraged to see so many people back on campus, exploring involvement activities.  
"It's pretty cool seeing how we're coming back, especially after COVID, to see people engage again and having fun together again by engaging in things they care about," Wickel said.
"Like Matt said, after COVID, seeing the growth that we've made, ever since last year and even before that, I'm proud of our campus," Jiminez said.