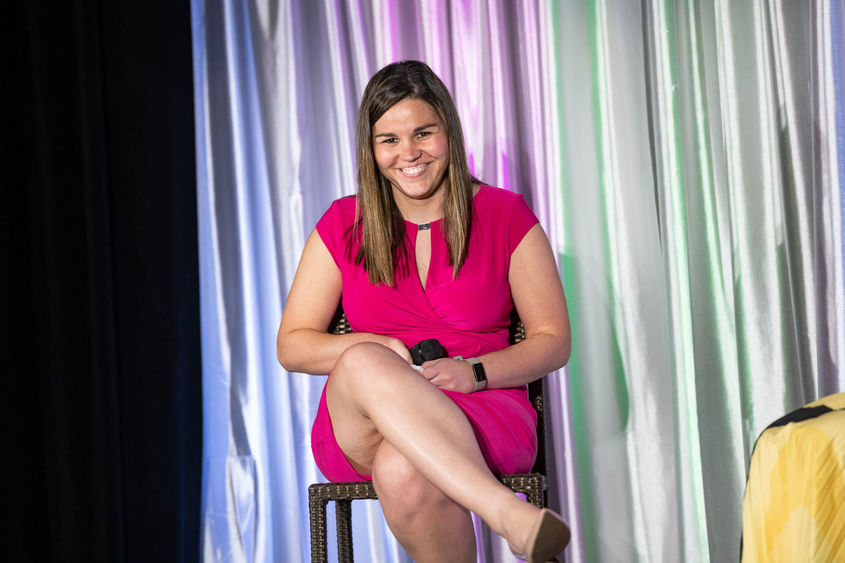 Alyssa Abbonizio, a 2018 Penn State graduate who attended Brandywine, was recently recognized by her employer, Title Alliance, for outstanding work and a dedication to "getting it done."
Title Alliance is a title insurance company which works with real estate and lending professionals in Pennsylvania.
"Get It Done is one of our new core values that we have, and that represents employees who go above and beyond to get things done and to make our customers happy," Abbonizio explained.
"My co-workers and I, we're all working towards the same goal, to make the dream of home ownership a reality, and to really make it a memorable experience and a smooth transaction from start to finish, and I'm willing to do whatever it takes to make that happen," Abbonizio said.
Abbonizio's official role at Title Alliance is onboarding and lead client experience specialist, but her day-to-day work spans a multitude of different responsibilities.
"My title covers the majority of what I do, but I also have a lot of other things I do as well," Abbonizio explained. In her onboarding capacity, Abbonizio takes new hires from offer letter through their first few months in their new home. "As soon as they sign, I work with them and ensure an exceptional onboarding experience from that moment they say yes, through their first 180 days. So, I've really built up an entire onboarding process," Abbonizio detailed.
"I'm also the lead client experience specialist," Abbonizio said, explaining how that is a new position that she's been responsible for building herself.
"I had the opportunity to really launch the role. I was able to do it in one of our offices as a test run and build it out," Abbonizio said. "I was really able to critique it, to make sure that it would be the best, and that role's really dedicated to providing customer service at a high level for our realtors, our agents, as well as our buyers and sellers."
"I do a ton of other things too. I also do the press releases and all of our public relations," Abbonizio added, noting that those responsibilities include a lot of writing and coordinating with C-suite level leadership. Title Alliance also recently started their own podcast, in which Abbonizio is heavily involved.
"It's called Title Alliance Live and it's led by our CEO, Jim Campbell, and our chief strategy officer, Lindsay Smith. So, we have a bunch of different guests on there," Abbonizio said. "It was really fun to create and launch the podcast and I enjoy getting to produce new episodes to go live every other week."
Abbonizio first started with Title Alliance as an intern during her senior year at Brandywine. As she describes: "I wanted to know everything, I wanted to learn everything, I wanted to help any way that I could. And I really did that." 
"I would ask them if there was anything they could show me. They showed me how to do press releases. So, as an intern, I was able to work with them and write their press releases, which was one of the things that helped me from college, because I had a PR class and we went over press releases and PR kits and things," Abbonizio described. "That really helped me because I was able to take what I learned from my PR classes at Brandywine to actually doing PR for a real company."
Beyond the numerous skills from her communications courses, Abbonizio also mentioned time management as one of the major abilities she developed at Brandywine that has gone on to help her succeed in her career.
"I think overall the biggest thing that Brandywine helped me with experience-wise, was being able to build my time management skills," Abbonizio said. "In addition to taking my classes, I also played on the soccer team and the basketball team and I also worked at Brandywine in the athletic department."
Everything I had going on at Brandywine helped me with balancing everything now in my current job

—Alyssa Abbonizio , Penn State alumna
"So, I really understood the importance of time management and meeting deadlines and that helped me prepare for my job, because the majority of what I do now, I have deadlines," Abbonizio explained.  "So I'm able to use that skill that I learned at Brandywine to help me balance and maintain my work schedule as well. Everything I had going on at Brandywine helped me with balancing everything now in my current job."
To graduating seniors looking to make the most of their degree as they enter the workforce, Abbonizio encourages them to "take that leap even if you're still nervous."
"Being right out of college, I was so nervous," Abbonizio said. "I started here as an intern my senior year and they offered me a full-time position and I was so nervous to do it because I didn't know anything about title insurance. Even when I started my internship, I was googling, 'what is title insurance?'"
"I've been here four years and I went from knowing nothing to now working with agents and doing deed packages, and I just did a closing for the first time last week. So, it's really, really going well. I would definitely say, don't be nervous to take a risk," Abbonizio said. "Because I took it and it's been one of the best decisions that I have ever made."