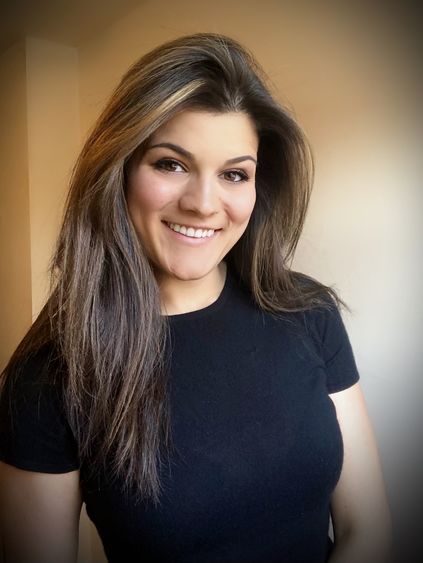 For graduating senior and communications major Kristen Harootunian, it's challenging to name what her greatest accomplishment during her time as a student has been.
"It's so hard to say," Harootunian said, noting that serving as one of the two student commencement speakers in Saturday's ceremony is "a huge accomplishment to come."
"The multiple accomplishments that I've achieved at Penn State Brandywine were like every year, because I'm in recovery and in my sobriety, so like every year, getting another year clean that was a huge accomplishment for me," Harootunian explained.
Harootunian also noted the work she did on her grades as an accomplishment. "Working really hard every semester to build up my GPA. That was a really big thing for me," Harootunian said. "I was excited that I got all As or I got all As and a B, and I honestly worked for it."
Reflecting further, Harootunian commented that "I guess every college student's biggest accomplishment would be graduating, right?"
When she came to Brandywine, Harootunian was unsure about which degree she wanted to pursue.
"I came into Brandywine not knowing what I wanted to do at all. I just knew that I wanted to go to college. I knew that I wanted to get a degree," Harootunian said. "I remember talking to my adviser like year two and I wasn't really sure what I wanted to major in, but I knew that I really liked helping people."
Harootunian's adviser, Associate Professor of Communication Arts and Sciences Susan Fredricks, suggested a communications major. This suggestion set Harootunian on a new path.
"My education goals shifted after that to where I finally got to hone in on some of the things that I was really interested in, like how to do a press release, but also how to effectively communicate with all different types of people," Harootunian said.
Describing how she came into Penn State unsure of what she wanted to do, Harootunian admitted "I wasn't really confident in myself."
"Now, being at the tail end of my senior year, I am 100% sure that I know what my north star is, what I want to do, where I want to go," Harootunian said. "I know for a fact I want to help people, I want to advocate for people, and it was all through the encouragement of my professors and my peers that I discovered that."
Harootunian recalled one particular interaction with Assistant Teaching Professor of Communications Professor Karen Theveny that was especially meaningful. 
"I know for a fact I want to help people, I want to advocate for people, and it was all through the encouragement of my professors and my peers that I discovered that."

—Kristen Harootunian , student commencement speaker
"I was taking her class and I was going through a really tough time with my mental health," Harootunian said, explaining that she had a lot going on personally during that time. "I remember one time after class just saying, 'Hey, do you have a minute?' I sat there and I talked with her for like 30 minutes. I told her about what was going on and that I needed help and I needed support."
Harootunian described Theveny's response as "so compassionate." "She was like 'take all the time you need. I'm here for you.'"
"That was definitely one of the most touching moments that I've had at Penn State Brandywine, where I wasn't just a student, I was a human being, and she wasn't just a professor, she was a human being too. So I really appreciated that," Harootunian said.
Harootunian explained that while she came from "a Penn State family," she "also chose Penn State Brandywine because the Penn State name was very daunting to me." Harootunian's older brothers are both Penn State Brandywine alumni and told her positive things about their experiences here.
"They said that Penn State Brandywine was a really close-knit community, that people knew each other and people cared for one another," Harootunian said. "Of course I chose it because it was close to home too, but once I got involved I learned very quickly it's more of a family vibe than small fish in a humongous pond."
Harootunian said she was surprised by the number of opportunities available to her at Penn State Brandywine — opportunities that helped her learn more about herself.
"I feel like what was surprising to me was every time I said 'yes' it opened a new door for me," Harootunian explained. "It surprised me the amounts that I could push myself in a healthy way. I guess what surprised me was my ambition. I didn't realize how ambitious I was. I didn't realize how many opportunities I wanted to take on."
For students lucky enough to be early in their Brandywine experience, Harootunian has a few pieces of advice.
"I would tell a student in college in general go easier on yourself. I mean we're here for academics, right, but it's so much more than that," Harootunian said. "Seriously, it's all about the experience here. It's not that grades don't matter, because of course they do, but focusing on those tiny little things that we could have done more on, it hurts us from seeing the big picture of why we're here and what we're doing and the purpose of being in college."
"If there's anything about college that I can say or anything about Brandywine, it's the more that you say 'yes' to those social experiences or those academic opportunities, saying 'yes' is like the thing that will get your foot in the door," Harootunian said.