As Casey Siter prepares for commencement on December 18, she has a plethora of positive experiences to reflect on from her time at Brandywine.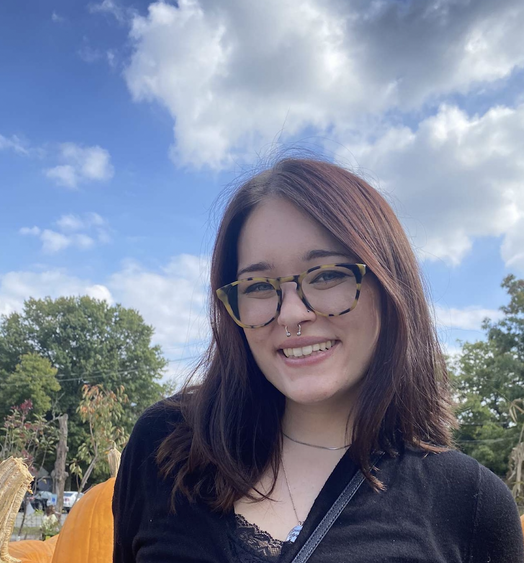 "I chose Brandywine specifically because I loved the smaller campus feeling. I like that we are more than just a number here — you can get close, personal connections with your professors, your advisors, everybody."

—Casey Siter , graduating Penn State Brandywine student
As Casey Siter prepares for commencement on Dec. 18, she has a plethora of positive experiences to reflect on from her time at Brandywine.
"I feel like I've learned so much," Siter said when considering her academic career.
"I bet everybody says that when they're graduating from college, but I really liked it here. I genuinely liked everybody I had an interaction with — staff and students. It's been great."
Considering her favorite memories, Siter recalled being one of the first students to live in Orchard Hall when it first opened in 2017.
"My top highlight was probably living in the dorms freshman year. It was a great experience," Siter said.
"I just liked being on campus and getting the full college experience. Especially because our class was the first one, so I felt like that was important," Siter added.
A psychology major, Siter has taken full advantage of the campus' offerings during her time as a Brandywine student. 
"Brandywine has offered a lot of resources, especially when it comes to the library. I used the library database every paper I had to write. It's just awesome, all the resources and how a librarian or someone to help you is an email away," Siter said. 
"I used the writing studio often," Siter added. "Just to have somebody to talk through my work with me and make sure I was submitting A, B+ papers."
Developing close working relationships with faculty has been another favorite part of Siter's Brandywine experience. "Dr. Daniela Martin (associate professor of psychology) is my adviser, and she has been a huge help throughout the four and a half years I've been here," Siter said. "She has really helped me to stay on track and make sure that I was taking the right classes and just feeling okay and getting through everything okay."
Margaret Signorella, distinguished professor of psychology and women's, gender and sexuality studies, was another teacher who stood out in Siter's mind. "I've had her since freshman year and I have her this semester too. She is an awesome teacher in the psychology department who really cares about helping her students and making sure they pass and graduate."
According to Siter, she's wanted to be a Penn State student ever since she was younger.   
"Growing up, a lot of my teachers and family were always huge fans and/or went to Penn State, so I always wanted to go to Penn State," Siter explained. "I chose Brandywine specifically because I loved the smaller campus feeling. I like that we are more than just a number here — you can get close, personal connections with your professors, your advisors, everybody."
"I have a lot of friends who have gone to bigger universities, and I just love how everybody knows me by name here. All the professors I've had two years ago still remember me because like I said before, it's a small campus and it's just, you have so many opportunities to make connections with people."
Considering future students, Siter suggested making sure they take advantage of all that's available to them on campus. "I would tell them to make sure they use every opportunity Brandywine has to offer. It's so helpful," Siter said. "Once you learn about everything there is, it makes your college experience just that much easier because you have helping hands at every corner."