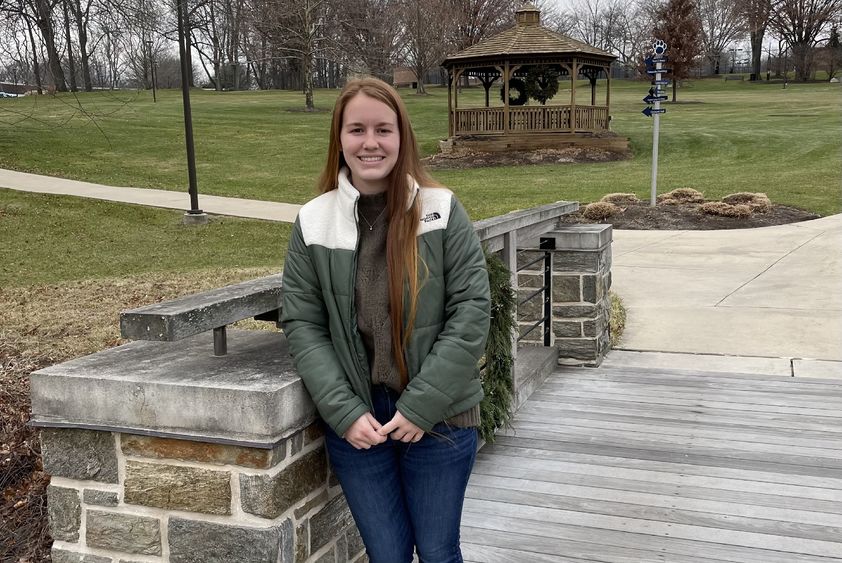 MEDIA, Pa. — Laura Wilson spent her fall semester getting her foot in the door in the sports industry with an internship at Blue 57. Wilson describes Blue 57 as "a scouting agency for Power Five Division I football schools." The Power Five includes five prominent college athletic conferences.
Wilson said she discovered the internship while searching for opportunities in the sports industry. A communications major and lover of all things Philadelphia Eagles, Wilson's interest in the sports industry started early. She initially was interested in being an on-camera sports broadcaster, but an early experience visiting Lincoln Financial Field helped broaden her perspective. 
"I love the Eagles and I love the NFL and we actually had a friend who worked for the team. So he would bring me down during the warm-ups and stuff and I kind of was seeing the behind the scenes of everything that goes on beyond the camera," Wilson explained.
"There are so many other people, like marketing, PR, the on-field assistants," Wilson said. The experience sparked her interest in opportunities in all parts of the sports industry, a passion she's pursued ever since.
Wilson is planning to graduate in May 2022. She said her time here at Brandywine has been a huge help in preparing her for success at her internship.
"It's helped me a lot. Actually, it's weird to say but being virtual has helped with it since it's a virtual internship," said Wilson.
Taking a lot of asynchronous classes, which are more self-driven, has fostered Wilson's ability to manage her time and keep herself motivated to manage her own assignments.
"They helped a lot," Wilson said, explaining how the virtual nature of the internship didn't allow for there to be a lot of checking in. "So you have to be really self-motivated and my virtual classes, that kind of helped me."
Wilson said she also benefited from her public speaking classes and communications curriculum.
"Even though we're not in-person, we still do weekly video chat meetings," Wilson said. While Wilson's off-campus jobs include nannying and dog-walking, this internship is her first corporate experience. 
"So going into it knowing how important eye contact is, just the way that you're sitting, the way that you look, it was just really good to know so that I wasn't as nervous going into it," Wilson detailed.
"Knowing communication is key, whether it's in person or virtual, emails or GroupMe message."

—Laura Wilson , Penn State Brandywine senior
Lessons from her communications curriculum also helped her along, Wilson said.
"Knowing communication is key, whether it's in person or virtual, emails or GroupMe message," Wilson said. She channeled them into an excellent performance at the position, which she explained has allowed her opportunities for advancement.
"When I came in I was a communications director but I was able to work my way up to become a scout as well," Wilson said.
Wilson said she views the internship as an invaluable opportunity to get her foot in the door in the sports industry, a critical first step in pursuing her goals. Understanding the importance of networking, she has been striving to make meaningful connections with her co-workers.
"I think networking is really important. Like getting to know people in the company — not just doing your work and turning it in, or not talking or reaching out to anyone," Wilson said.
Wilson said she also sees it as an opportunity to build on her years of volunteer experience. She has served as West Chester Henderson High School's wrestling manager for the past eight years.
"This is going to be my last year," Wilson said, explaining that she started managing the team when her older brother was a senior in high school. "Then I continued and now my youngest brother is a senior so I'll be done this year after eight years!"
Wilson said she loves her work as a wrestling manager and counts serving as the team's statistician and handling social media among her responsibilities. With her Blue 57 internship, she's happy to be building on those skills by adding more professional experience to her resume.
"I've been a wrestling manager for eight years, but that's different than having that professional experience," Wilson said. "I just think having that experience and being able to put that on my resume will help me have a boost over other people in the future."