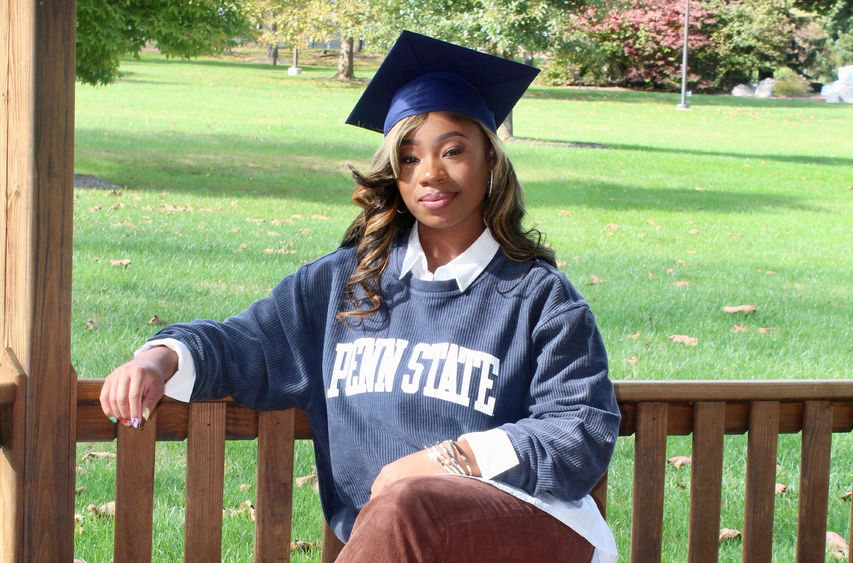 Name: Seretha Germany
Major: Psychology
Minor: Biology
Graduation Date: Dec. 18, 2021
Seretha Germany, who will receive her bachelor of science degree in psychology at Penn State Brandywine's fall commencement ceremony on Dec. 18, reflects on her time as a student at Brandywine.
Germany: I chose Penn State Brandywine because it was close to home. I also received a scholarship, so that was a deal-maker for me. I liked the atmosphere when I came and toured the campus. It was a small community and that's what I wanted to be in.
I remember my first opportunity that Brandywine offered me. It was from Career Services — an email about internship opportunities and workshops. And I looked through that and I saw a workshop at the Children's Hospital of Philadelphia where you could learn about a position there. It was a really good workshop. I got to connect with some people there and I got to work there during a seasonal term. So it was really great.
From the very beginning, I was involved in our first annual Mock-Con convention. Then, I did some undergrad research with Dr. Harrell-Levy. We studied trauma in the community of Chester, the elementary schools, and then I became a peer mentor starting fall 2020, which led me to be a Lion Guide. And I am also the diversity affairs chair of student government.
My top highlight has been serving as president of the Black Student Union, as well as my other leadership opportunities. It's a great takeaway. I gained a lot of leadership skills, made a lot of new friends and it made my experience so much better.
I think my favorite Brandywine memory was the Week of Welcome this semester. All the events that we had, being a Lion Guide, meeting the new incoming first-year students, it was a good experience and it was fun working as a Lion Guide.
Throughout the semesters, what really surprised me is how overwhelmed you will get with the work you have and how you have to be very self-motivated to push through times like that. That's what really surprised me about college.
For first-year students, the advice I would give is to stay on top of your work, always ask for help when needed, and take care of yourself. Just always take care of yourself.
After graduation, I am going to take a much needed break and I'm going to travel. I'm going to find a good job in the field until I figure out what I want to do for graduate school.