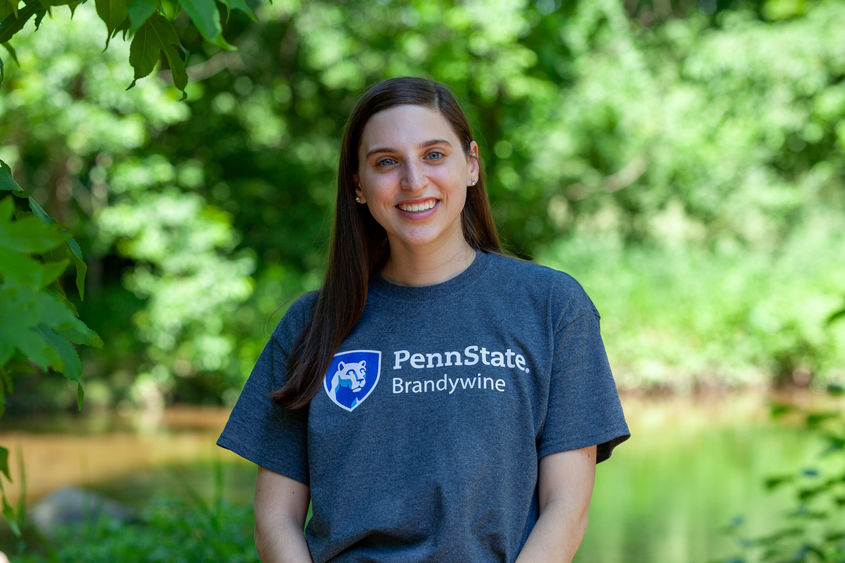 Name: Dana Hallahan
Major: Biology
Minor: Human Development and Family Studies
Year: Rising Junior
Involvement: Peer mentor, orientation leader, event co-chair of the Brandywine Events and Activities Support Team, president of the Lion Ambassadors, Schreyer Honors Scholar
Brandywine: What inspires you about being a peer mentor at Penn State Brandywine?
Hallahan: Looking back, I was lucky enough to have a lot of people who were great peer mentors for me. They gave me great advice and made my transition to college much easier. I want to continue that legacy and give back as much as I can. I also enjoy sharing the different resources that we have on campus — Brandywine has so much to offer. Through peer mentoring, I've made so many connections with my peers and built new friendships — it's been a great experience and very rewarding.
Brandywine: What challenges did you face when transitioning to college?
Hallahan: At first, it was challenging to meet new people, but through my involvement with different events and clubs I was able to build new friendships. That's one of the reasons why I became interested in event planning and peer mentorship in the first place. Not only have I made new friends, but I've helped new students get acclimated faster and meet people through my work on campus.
Brandywine: What has been your greatest accomplishment throughout your campus involvement?
Hallahan: Being able to build a strong sense of community on campus, especially throughout the pandemic, has been really rewarding. Although challenging, we had a great year, and I was able to help students make meaningful connections through virtual peer mentoring sessions and events.
Brandywine: Why did you choose Penn State Brandywine?
Hallahan: I chose Brandywine because it offered me the best of both worlds — it's small enough to easily make connections with students, faculty and staff, but large enough to have access to so many different resources. For example, from academic resources like tutoring and the University library system, to leadership opportunities like being the president of a club, I have what I need to succeed.
Brandywine: Who at Penn State Brandywine has supported you?
Hallahan: Bridget O'Donnell, assistant director of student activities, has always been there for me. She has pushed me to be a better student leader and encourages me to seize new opportunities. I wouldn't be as involved as I am today without her guidance.