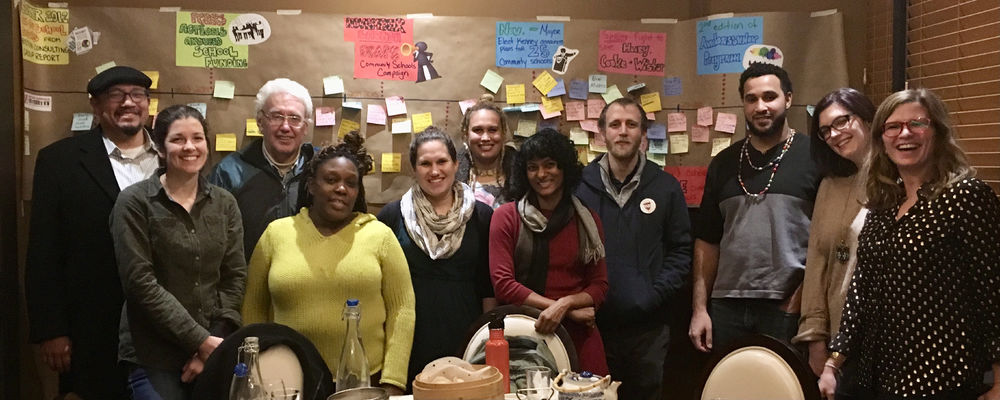 PHILADELPHIA — Many people want change in their public schools. In Philadelphia, parents and families are seeking a ground-up approach to their child's education; one where changes are made in response to an individual child's needs, rather than a top-down approach that could leave them out of the decision-making process.
The seeds for this approach are taking root in a critical participatory action research project called "Shifting from Groundwork to Rootwork: A Living Curriculum for Organizing with Parents and Communities of Color for Public Education in Philadelphia." This project is led by the Philadelphia Participatory Research Collective, a collaborative endeavor supported by the Penn State Center Philadelphia, a service of Penn State Outreach.
"There are a lot of resources in this city, but they are distributed inequitably and without school community leadership," said Pep Marie, a community leader with the Our City Our Schools (OCOS) coalition, and a co-founder of the collective. "Philadelphia is the only district in the state without an elected school board. We feel that school district leadership does not share the community's vision for our schools, which has led to a lack of trust in any board decision."
Shivaani Selvaraj, director of urban development for the Penn State Center Philadelphia, and Kristen Goessling, assistant professor for human development and family studies at Penn State Brandywine, founded the collective with Marie and three other community leaders in the Philadelphia area. Goessling received a grant from the Spencer Foundation to support the education project.
"Since 2016, our collaboration has allowed new strategies to take shape in a complex sector that is often divided across stakeholders," said Selvaraj. "Based in Philadelphia, we feel that it is vital to work with communities that are most directly impacted by various policies in identifying pressing needs and opportunities. Demystifying the research process and involving community members in all aspects from design to dissemination is one contribution that we are making towards racial and social justice in education."
Marie said OCOS first came together to abolish the state-appointed Philadelphia School Reform Commission.
"The students, parents, educators and community members remained in solidarity after that initial victory and the coalition shifted to meet the stated needs of member organizations," Marie said. "OCOS offers intentional space for organizations to strategize across campaigns in service of developing our collective vision for transformative schools and more Black, brown and working-class leaders. The issues with our public education system are vast and addressing these problems requires a number of perspectives and a lot of people power. No one organization can lead every fight, but in solidarity we are putting extra strength behind every call for change."
Goessling said her work with the collective weaves together her commitments to equity and justice through collaborative partnerships across her teaching, research and service at Penn State. She said this work began with participatory action research in an attempt to advance public engagement for public education.
"The relationships we have built through our research and organizing for public education have generated new community-University partnerships that are grounded in reciprocity and sustainability while expanding opportunities for student engagement. This work enabled me to develop a University-wide minor program, Youth Development and Social Justice, that was supported by a Seeding Change Grant from the Penn State Center Philadelphia," Goessling said. "The program includes a community-based capstone course for Penn State students who use a social justice framework for youth mentoring to provide academic and social support to elementary school students in the classroom and during after-school programs in Philadelphia public schools."
To learn more about the Philadelphia Participatory Research Collective, visit the Penn State Center Philadelphia online.