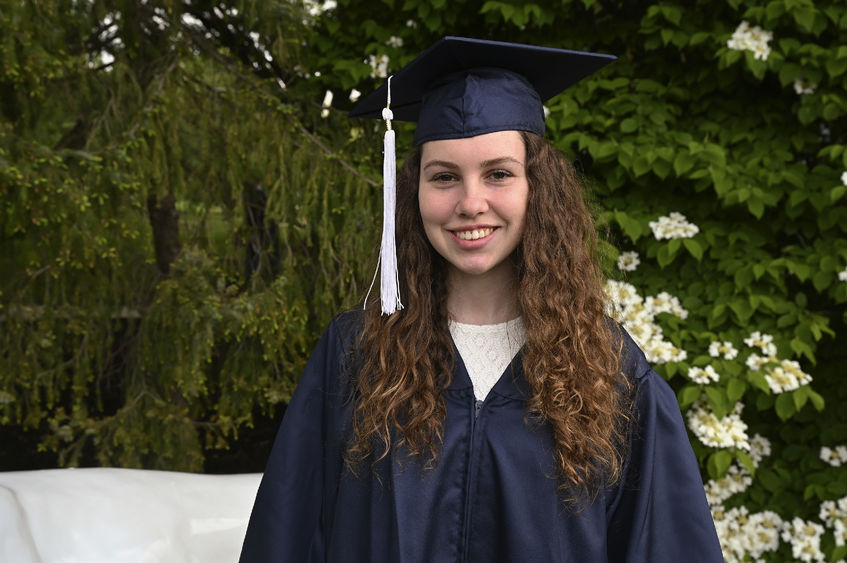 Of the 89 students recently celebrated at Penn State Brandywine's spring commencement ceremony, seven earned their degrees in engineering — all of whom gained real-world experience through internships and capstone projects prior to entering the workforce.
The graduates were enrolled in Brandywine and Abington's bachelor of science degree in engineering - multidisciplinary engineering design option. The first two years of the program focus on foundational engineering coursework, which can be completed at Brandywine or Abington. The next two years of advanced engineering coursework are completed at the engineering facilities at Great Valley, where students study engineering design with an emphasis on the design of complex systems.
"There's nothing that compares to experiential learning," Assistant Teaching Professor of Engineering Maria Evans said. "These students really got an understanding of how engineers work on a day-to-day basis and were able to bring that understanding back into the classroom. Our internships and capstone projects are such powerful experiences."
As part the program, seniors complete a year-long capstone project sponsored by local engineering firms — giving students the added benefit of working on real projects and making professional connections. This year's sponsoring companies included Lockheed Martin, JBT Corporation, Refined Plastics and Paradigm Electronics.
"Students get to do real engineering design work with real outcomes for companies," Evans said. "A lot of times, we're delivering these products to the company and the company is then using them. It's very much like working as an engineer instead of a student. Also, these capstone projects often lead to employment for our students."
Recent graduate Adin Ballas and his capstone project groupmates worked with Refined Plastics throughout their senior year. Ballas and Evans explained that the company's goal is to use recycled plastic to produce virgin quality plastic at a competitive price, which would revolutionize plastic recycling.
"As emerging engineers, I really try to push our students to think about, 'what are the world's problems?' That's one of the reasons why I love this collaboration with Refined Plastics so much," Evans said.
Students enrolled in the program are also required to complete a 300-hour internship, which Evans said is a crucial component to "a student's understanding of how they're going to be using their education once they've graduated and are in the workforce."
Ballas, along with fellow graduates Ian Sammons and Angelo Tuono, interned at ThruPore Technologies, Inc. where they helped develop spraying techniques and technology for a carbon product that kills the COVID-19 virus when applied to air ventilation filters.
"We did a lot of research to come up with the best way to spray this chemical catalyst," Ballas said. "We also used a pressure drop system to determine the quality of the air that had traveled through the sprayed filter."
For her internship, recent graduate Jaclyn Domsohn worked on a Penn State-led research team to design and develop a surveying drone. In the early stages of the project, the team researched the required drone functions and the hardware and software components needed for the build. Once the design process took place, the team split into subgroups and Domsohn mainly focused on the drone's camera system.
"My internship experience allowed me to apply what I've learned in the classroom, but it also taught me a whole new set of skills," Domsohn said. "To be successful in these types of projects, you really need to be a self-starter and an effective communicator, both within your team and with your project supervisors."
"This year has been so hard on everyone, but no more so for our students," Evans said. "What a challenge to figure out how to navigate education in the time of COVID-19. I think the greatest skill that engineers have is their problem-solving skills. This year, these students were forced to become exceptional problem solvers. At the end of the day, I think these capstone projects and internships were some of the best that we've ever seen."
Brandywine's 2021 engineering graduates were Patrick Ahern, Ballas, Domsohn, Tyler Emrich, Benjamin Lyons, Ian Sammons and Angelo Tuono.