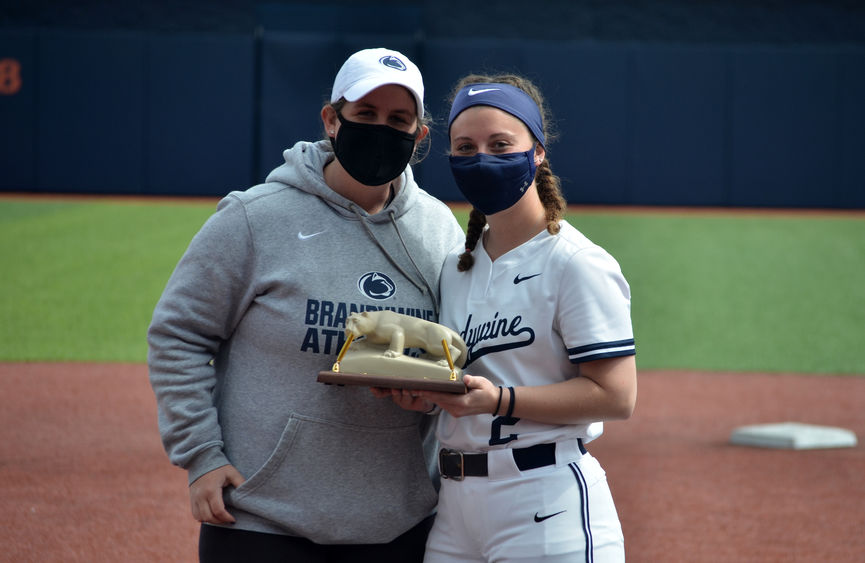 MEDIA, Pa. — Penn State Brandywine softball senior Haley Grossi received the John S. Egli Award as the top female student-athlete in the Penn State University Athletic Conference recently.
The award, named in honor of John S. Egli, a former Penn State student-athlete, professor and coach responsible for bringing varsity athletic programs to the Commonwealth Campuses, has annually been bestowed upon the top male and female student-athletes in the PSUAC since 1982. To be considered for the award, a student-athlete must have had a distinguished athletic career, own a minimum grade point average of 3.0, be active in additional campus activities and exemplify high morals, leadership and outstanding character.
A three-year team captain, Grossi was a four-year starter and one of the top defenders in the PSUAC at second base and shortstop, with great range and glove. She had a .974 fielding percentage in her career. At the plate, Grossi was a .309 hitter with four home runs, 82 runs scored and 60 RBI. During her final year at Brandywine, Grossi earned USCAA All-American honorable mention laurels after hitting .352 with 23 runs scored and 16 RBI.
Grossi was a First Team All-PSUAC standout and earned USCAA World Series All-Tournament Team honors as a sophomore and claimed All-PSUAC honorable mention during her freshman and senior seasons. During her 104-game career, Grossi led the team to three PSUAC championships and top-five finishes at the USCAA World Series in 2018 and 2019.
In the classroom, Grossi owned the top grade-point average by a Brandywine student-athlete at 3.98 during the 2020-21 academic year. A eight-time Dean's List student, Grossi completed seven-straight semesters with straight-A grades and graduated Summa Cum Laude from Penn State this spring with a degree in human development and family studies.
Grossi has earned numerous accolades for her academic prowess as she is a four-time PSUAC All-Academic Team honoree and earned USCAA National Academic Team recognition for the third time this spring. She has also been honored three times by the National Fast-Pitch Coaches Association as an All-America Scholar-Athlete.
Along with her studies, Grossi worked on research with Penn State's Rock Ethics Institute, which is housed in the University's College of the Liberal Arts. Grossi and her research team investigated the ethical principles that impact gender-neutral and non-binary pronoun use in interpersonal communication through a series of experiments, while also creating training materials based on their work. The findings and materials will be used to develop ethical education and inclusion initiatives on college campuses and in local communities to help make them a safer place for LGBTQ+ students.
In addition to being a team captain in 2020, Grossi also took on the role as team representative for Brandywine softball's partnership with Team IMPACT. The team's adopted teammate, Ziah Oyler, was preparing to graduate from Team IMPACT after four years and Grossi put together a Senior Day for Oyler. When the pandemic interrupted plans for an in-person Senior Day, Grossi rallied the softball team to host Oyler on Zoom to celebrate her graduation from Team IMPACT.
Grossi spent the fall 2020 semester as an intern at the Valley Youth House, a local non-profit organization. With Valley Youth House, Grossi worked with vulnerable, abused or homeless use to teach them life skills and support them through tough times.
Grossi has also spent three years as a volunteer softball coach for a local U18 team.
Penn State Brandywine has produced 16 John S. Egli Award winners, the most of any Commonwealth Campus. Seven of Brandywine's winners have come since 2015. Grossi is the third Brandywine softball student-athlete to claim the honor in the eight-year history of the program.