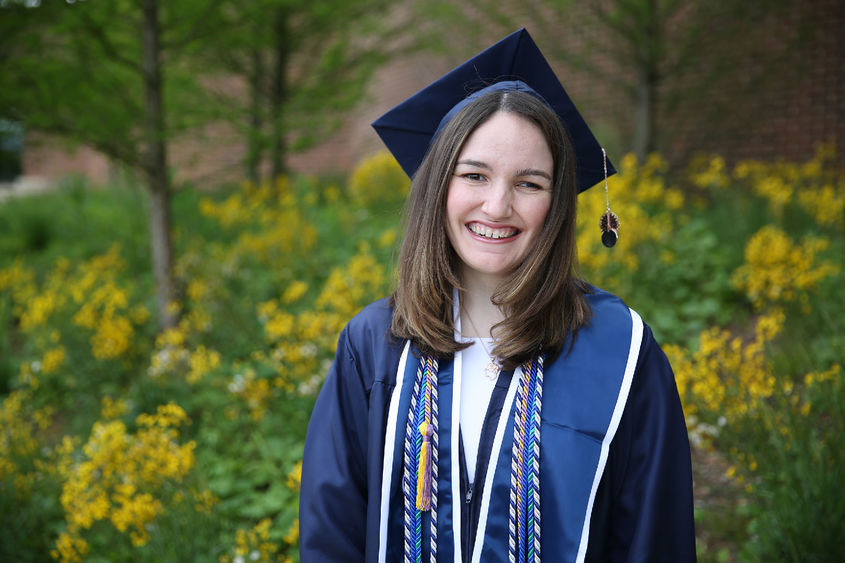 Name: Danielle Guth
Major: Psychology
Minor: Human Development and Family Studies
Graduation Date: May 8, 2021
Danielle Guth, who received her bachelor of arts degree in psychology at Penn State Brandywine's spring commencement ceremony on May 8, reflects on her time as a student at Brandywine.
Guth: After high school, the college I initially chose just wasn't the right fit for me. I was looking at other options and that's when I found Penn State Brandywine. I liked that it was a small campus, but it wasn't too small. After attending an open house event and meeting Dr. Marquit, I knew I would be able to easily make connections with my professors because of the small size, but I would still have a lot of opportunities to be involved.
Academically, I was a member of the Cooper Honors program, and through that, I was able to complete multiple honors-level research projects — one of them serving as my honors thesis. Additionally, I was president and vice president of Brandywine's DMAX and Active Minds Clubs, and I also served as a member of the Chancellor's Commission on Disability & Advancing Accessibility.
Brandywine has provided me with countless opportunities and resources that I don't believe I could have gotten anywhere else. It really gave me the opportunity to grow academically through the honors program and research projects. Being involved in so many extracurricular activities also helped me grow as a leader. Brandywine's Office of Advising and Career Services also helped me gain confidence in job interviews. I used to be a shy, timid person, but through mock interviews I really improved my interview skills.
One person in particular who supported me during my time at Brandywine was my honors thesis adviser, Dr. Martin. She guided me through the development of my thesis from beginning to end. She also helped me look for and apply to doctorate programs. I plan to attend Widener University in the fall and hope to eventually become a clinical psychologist. Her level of support and dedication has meant so much to me and I wouldn't be here without her.
Being a part of the Brandywine community has meant so much to me, and so being a graduate of the campus is such a bittersweet feeling. Brandywine has really opened a lot of doors for me, and I don't think I would have gotten this experience anywhere else. I'm very grateful for that.