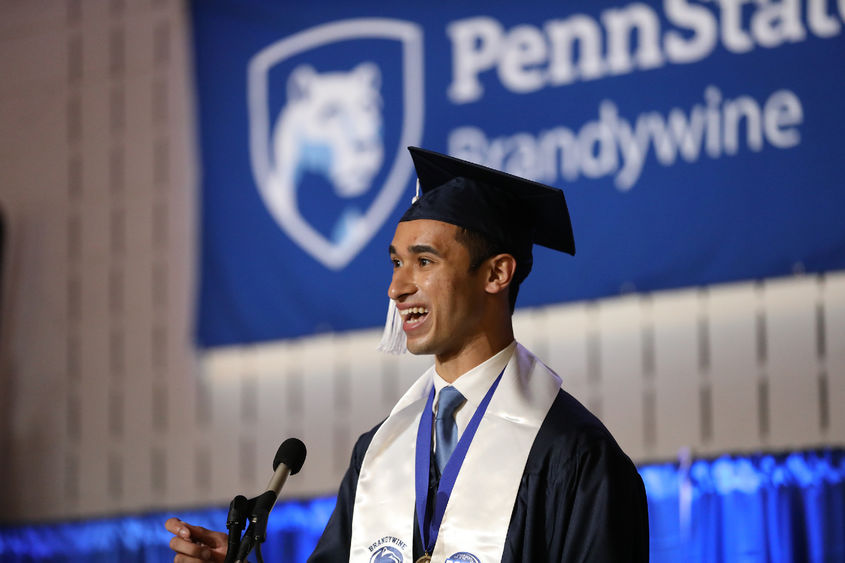 Penn State Brandywine celebrated its spring 2021 graduates with two commencement ceremonies on May 8 in the campus gymnasium — the first in-person ceremonies since December 2019, prior to the COVID-19 pandemic.
"Commencement is one of the greatest days in the life of a university. Commencement is also a memorable day in the lives of all our graduates," Chancellor Marilyn J. Wells told the 89 graduates and their guests. "Each generation has its defining moments, and for you, completing your world-class education, undergraduate research experiences, community-based service learning, sustainability projects, and internships at leading corporations through the COVID-19 pandemic is your defining moment. The character that you have demonstrated and skills that you gained through virtual learning will serve you well in your future.  As I have come to know you and celebrate your accomplishments, let me say, I know our future is in good hands."
Victor Ficarra, who graduated with a bachelor's degree in business, was the student speaker at the morning ceremony. He was president of the Lion Ambassadors, captain of the tennis team and a member of the basketball team, a peer tutor and a Schreyer Honors scholar. He plans to attend law school this fall.
Ficarra told of realizing that he chose his first major for the wrong reasons and embracing change as an opportunity, rather than a sign of failure.
"It is at the moments of change in our lives where we are quite literally picking a new direction for ourselves, and we must be willing to pick these directions and run with them," he said. "Along the way, we must also be capable of seeing new opportunities as they present themselves. Making changes and taking on new opportunities can be absolutely terrifying but that feeling of gratification and fulfillment when it all works out is what has kept me going. Opportunities can manifest themselves in all sorts of ways throughout our lives, and we must build the confidence and vigor necessary to capitalize on the biggest ones."
Danielle Guth, who graduated with a bachelor's degree in psychology, spoke at the afternoon ceremony. She was president of the DMAX Club, vice president of Active Minds, a member of the Chancellor's Commission on Disability and Advancing Accessibility and a Cooper Honors scholar. She plans to begin a doctoral program in psychology this fall.
Guth shared her story of overcoming obstacles, including a severe hearing loss and other medical challenges, and persevering against the odds.
"My personal journey goes to show that nothing is impossible and there is nothing you cannot do," she said. "You can accomplish the goals that you set for yourself no matter what. Everyone graduating here today has undoubtedly faced your own unique challenges but each of you has evidently shown resilience and commitment to get to this point. I hope each of you will take what you've learned at Brandywine, along with your unique experiences and challenges that you have overcome, and use them to create a path forward that is meaningful to you."
After the students' remarks, Wells and Director of Academic Affairs Wiebke Strehl conferred the degrees.
As she called the names of the graduates, Strehl noted: "For the past 15 months, our spring Class of 2021 has demonstrated resilience, flexibility, and a determination to make it to this Commencement, even in a pandemic.  Nothing was stopping you!" 
As the ceremonies opened, Kennesha Busby discussed the international flags on stage and around campus representing the nationalities of Brandywine students. Busby, from the Caribbean island of Anguilla, was among four international students in the graduating class, with others from China, the Czech Republic and Taiwan.
"Consider how much richer our campus community has become because international students have chosen Brandywine," said Busby, who graduated with a bachelor's degree in biology and was active with the Multicultural Club, Student Government Association and other campus activities. "Each international student who graduates leaves a legacy for the next to fulfill."
Katya Iatsenko, who also graduated with a bachelor's degree in biology and was a Lion Ambassador and undergraduate researcher, shared the meaning of the American flag and the similarities between what it represents and the Penn State values. She also acknowledged the service of the three veterans among the graduates.
Brian Reynolds, who graduated with a bachelor's degree in business, provided closing remarks.
"Thanks to the resilience of students, staff and the Penn State community, Brandywine is full of people devoted to making positive impacts and creating excellent experiences on campus," said Reynolds, who was captain of the baseball team and president of the Marketing and Communications Club. "I have never seen a more resilient effort to work through challenging times. We have adapted to a different style of education, changed the status quo, and have certainly gotten used to talking through a computer screen, but like always, we have made the best out of what we have."
The ceremonies also included the Brandywine Music Association singing the National Anthem, Life Every Voice and Sing, and the Penn State Alma Mater. Penn State Brandywine Alumni Society President Devin Zuczek inducted the graduates into the Penn State Alumni Association and the Brandywine Alumni Society.
Penn State Brandywine, with 1,300 students, is a residential campus offering 14 baccalaureate degrees and the first two years of nearly all of Penn State's 275+ majors.