Penn State Brandywine's Student Spotlight highlights the remarkable work being done by students in leadership, academics, service, athletics and more.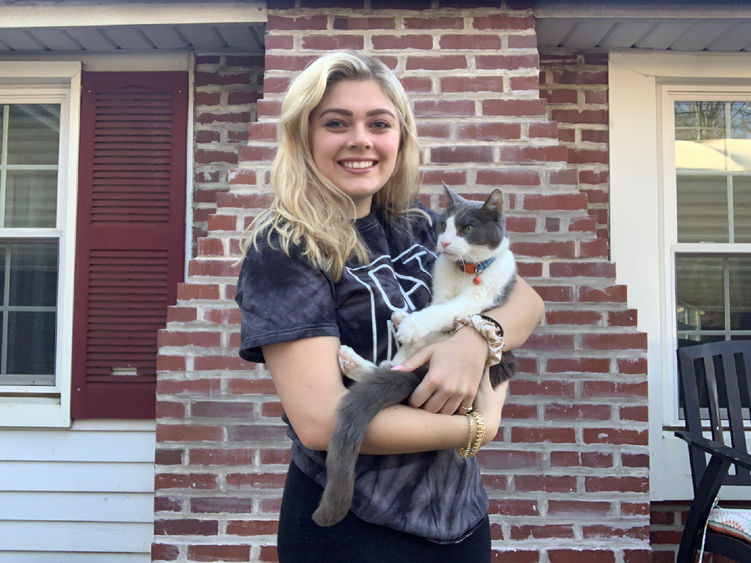 Name: Christianna Kile
Major: Finance
Year: Sophomore
Involvement: President and founder of the Paws and Claws Club
Brandywine: What is the goal of the Paws and Claws Club?
Kile: I created Paws and Claws because I deeply love my own pets and feel as though every pet should experience life in a loving household. Unfortunately, not every pet has this opportunity, and many are kept in shelters for extensive periods of time while waiting to be adopted. Paws and Claws encourages the fostering and adoption of these pets and supports local shelters through fundraising and volunteer efforts.
Brandywine: What inspires you about your work with Paws and Claws?
Kile: I really enjoy helping the local animal shelters and having that connection with other volunteers. Paws and Claws is currently working on an event to donate toys to a local shelter, and everyone involved is really excited about the partnership.
Brandywine: What has been your greatest accomplishment as club president?
Kile: One thing I'm really proud of is Paws and Claws recently created a fundraiser for the Brandywine Valley SPCA by making Valentine's Day eCards encouraging people to donate to the shelter. We were really happy about how the project turned out.
Brandywine: What challenges have you faced as club president?
Kile: The COVID-19 pandemic and Brandywine's shift to remote learning was difficult because it changed the way we did volunteer work. Some shelters aren't even taking new volunteers. We've had to find creative solutions and new ways to volunteer and fundraise.
Brandywine: How has Penn State Brandywine supported your efforts?
Kile: The Paws and Claws club advisers Bill Tyson, director of strategic communications, and Lisa Krol, staff assistant in academic affairs, have been there for guidance and support throughout the entire process. Bridget O'Donnell, assistant director of student activities, has also been a huge help when planning club events.