The Information Technology (IT) Services Department at Penn State Brandywine is laden with work-study students and interns, many of whom have had limited exposure to computers. How limited? For at least two of these students, they had never even seen a computer until well into their teens.
"Back home in Sudan, I never saw a computer. When I came to this country and saw it for the first time, I thought it was a TV. I had heard about computers previously, but I had this visual of them being these gigantic machines," said Abdelaziz Elmadani, holding his arms several feet apart for emphasis. Elmadani, of Philadelphia, is a junior material science and engineering student who moved to the United States with his family four years ago.
For Mohammed Ishaque, a sophomore business major who also moved to Philadelphia four years ago with family, but from Bangladesh, the story was much the same. "I lived in a small village, and I never saw a computer over there," he said. "At first, I did not have any idea what does it do, how does it work. Now I work with computers everyday and I can't live without them."
In their current positions in the IT department at Penn State Brandywine, the students are learning a great deal about computer technology, applying this knowledge in support of the campus' computing environment and earning good money they can use to help finance their education. As two of 17 work-study students in a department that resembles the United Nations, Elmadani and Ishaque also are learning invaluable lessons about other cultures -- and life. Those who make their careers employed in the department wouldn't have it any other way.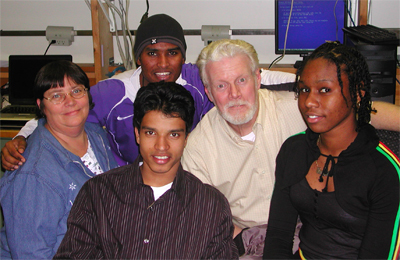 (Pictured from left to right: Theresa Walls, Mohammed Ishaque - front,
Abdelaziz Elmadani - in back, Gordon Crompton, and Raquel Tonge)
For Theresa Walls, an IT staff assistant who is referred to as "Mother Theresa" by students and staff working in the department, for her willingness to nurture and discipline, receiving calls from students who have long since graduated who want to discuss their careers, relationships and just about anything else, assures her the department has made its mark.
"All of us in this department are good mentors in our own way," she said. "It's great to see all of these students from different cultures working together and learning each other's culture. We really take pride in making a difference in the lives of the students who work for us, as well as those who have graduated."
As Gordon Crompton, senior systems consultant, sees it, his job is a great deal more than installing computer software and repairing broken PCs. "To me, as a staff person, it's all about the students. I want to help out as many students as I can," he said. "We have many students working for us who don't realize their own potential, and we're here to help make sure they make the most of their ability."
Students, present and former, have noticed. Raquel Tonge, a junior biology and IT work-study student who lives in Brookhaven, said: "I have learned a great deal, including how to take computers apart and put them back together. It's a good environment. If you want to talk to people there about something, there's always someone there who you can talk to. At how many jobs can you say that?"
Tonge, who also is known as "Little Theresa," "Smiley" and a host of other colorful nicknames by her IT colleagues, grew up in the Bronx. She is one of at least a dozen students in the department who hail from areas outside of the Philadelphia region, though her move wasn't nearly as drastic as those of Elmadani or Ishaque.
Elmadani, who is affectionately known as "Four-Door Sedan," a play on words based on his homeland, said this richness of cultural diversity has been a blessing. "We come from different cultures and backgrounds, but many of us have had similar experiences to get to this point," he said. "It doesn't matter what country we come from, or what religion we are -- we work well together as a group, and even with our bosses, we're all like a family."
As for former students, when Sabrina Johnson, a 2005 human development and family studies graduate and work-study student in the IT department, wants career advice or tips on life, she will often call on IT staff members at Penn State Brandywine.
"The people who work there taught me about professionalism -- how to work with people, the importance of being on time and taking the job seriously and about doing your best. It's great to have them in my corner, so to speak. I haven't severed my ties, and I don't think I ever will," said Johnson, an African-American who attended the predominantly African-American Martin Luther King High School in Philadelphia. "That particular department has a lot of diversity, and it gave me more of an open mind as far as working with a number of people from different cultures and backgrounds."
In addition to learning from the experience, Johnson said the mentorship that was provided to her is something that she has been "paying forward."
"It's nice to have someone who is looking out for you and trying to help out, and I find myself doing the same thing," said Johnson, an admissions representative for Allstate Career, a truck-driver training school in Lester.