Students in Connie Kirker's drawing class at Penn State Brandywine have been hard at work this semester designing a mural for Overbrook Elementary School in Philadelphia.
The students toured Overbrook Elementary and met with youngsters and administrators there earlier this semester to discuss a theme for the mural project, said Kirker. In the end, it was decided that the mural would combine elements of the history of the school, which will celebrate its 100th birthday in 2008, such as the school mascot (the owl), the school color (yellow), and the school song, with features representing the neighborhood in which the school resides, including Victorian-style buildings.
"We really didn't want to do something generic, like students holding hands or something, but rather something that really illustrates the identity of the school," said Kirker, assistant professor of integrative arts.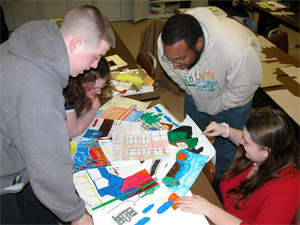 Students in the class said they enjoyed meeting the youngsters at Overbrook Elementary School, and hope the mural will be a focal point of the school for years to come. Once the design of the mural is complete, Kirker's painting class in the spring will work with students at Overbrook Elementary to bring the mural to life. This should be a great way to expose the youngsters to art, since the elementary school does not have an art program.
"This project is great. The kids were pretty excited that they would be able to help with the project, and hopefully this will energize the school to start an art program," said Theresa Merritt, a sophomore business student.
Ryan Connor, a senior business student, noted: "It was great to talk to the kids and ask them about what they were interested in and about the school. Everyone will see what we created when the mural is finished, and it's really exciting to be a part of this project."
This project is part of a larger collaboration between the two schools, which also includes Penn State Brandywine's Elementary Education in Multicultural Settings degree program providing training, as well as student teachers, to Overbrook Elementary School.