The Penn State Brandywine Lady Lions capped off a fine basketball season on March 10, by defeating Penn State Schuylkill 63-53 in the Penn State University Athletic Conference (PSUAC) championship game at University Park. The winning squad was paced by Cara Zibelman, who scored 21 points, and Deana Gineitis, who chipped in with 17 points. Angelle Green scored seven points, and helped secure the game with a pair of late free throws. Zibelman notched the 1,000th point of her career during the game. This was the last game for senior Dana Johnson. The academic all-conference player was a standout on and off the court, totaling more than 1,500 points for her career.
(Pictured in team photo, back row, left to right; Megan Kasmer - assistant coach, Angelle Green, Tiffany Ragins-Morris, Samantha Matthews, Comfort Ibare-Jones, Larry Johnson - coach. Front row, left to right; Cara Zibelman, Dana Johnson, Megan Russo, Deana Gineitis, Katie Martin, Tiesha Dunlap, Athena Nikolos.)
The Penn State Brandywine Lady Lions went from 1-18 Johnson's freshman year to a 20-5 mark in this, her final season. The rest of the victorious squad includes Megan Russo, Katie Martin, Samantha Matthews, Tiesha Dunlop, Athena Nikolos, Tiffany Raggins-Morris, and Comfort Ibare-Jones. Larry Johnson coached the Lady Lions to the championship, which marked the school's first PSUAC title in eight years. Megan Kasmer serves as assistant coach. The team earned a shot at the title by defeating Penn College by a score of 66-35 in the semifinals, also at University Park.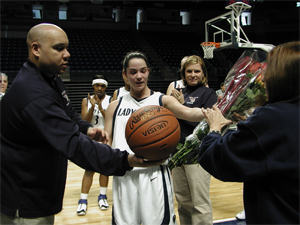 Cara Zibelman receives the game ball after scoring her 1000th point.