View the web gallery of the event.
Penn State Brandywine's EURECA (Exposition of Undergraduate Research Enterprise and Creative Accomplishment) was held on Thursday, April 19, in the campus' John D. Vairo Library. 
EURECA gives undergraduates an opportunity to conduct research, which is a valuable component to their education, taking it beyond traditional textbook, reading-it-in-a-book type of education to a more hands-on, practical level.
Working with individual faculty members on their research provides a unique opportunity for undergraduates to be introduced to the community of scholars and to begin to use the basic principles used to make new discoveries and develop new theories. The exposition gives students an opportunity to present what they have done, and the responsibility to be able to explain it and defend it. Students from all academic disciplines participate.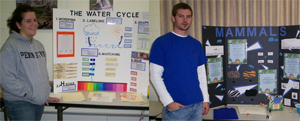 Penn State Brandywine students Meghan Freda and Chris Wrigley, both of whom are majors in Elementary Education in Multicultural Settings, earned honors at the Student Pennsylvania State Education Association (SPSEA) Convention on April 13-14 in King of Prussia. Freda, a senior from Swarthmore, and Wrigley, a senior from Cochranville, earned first place and third place, respectively, for the learning centers they created and submitted to the convention. Freda's learning center focused on the four components of the water cycle, while Wrigley's addressed attributes of mammals.
The Penn State Brandywine students created the math/science learning centers as a project for Associate Professor Pat Van Leuvan's "ELEDM 403: Using Math and Science Knowledge in Multi-Cultural Settings" course during the fall 2006 semester. These learning centers, which are clusters of activities designed to support a specific theme, provide an introduction, enrichment or reinforcement for lessons previously taught in the student interns' field placement classrooms, in this case Overbrook Elementary School in Philadelphia.
Kevin Reigner, of Brookhaven, another senior majoring in Elementary Education in Multicultural Settings, serves as president of the Southeast Region of the SPSEA, and helped plan the convention.