Engineering students from across the University participated in the Rube Goldberg Machine Contest to design a machine that assembles a hamburger consisting of no less than one precooked meat patty, two vegetables, and two condiments, sandwiched between two bun halves.
The annual contest, named after the cartoonist and inventor Reuben Lucius Goldberg and sponsored by the Penn State Engineering Society, challenges students to design a complex machine to complete a simple task. Penn State Brandywine, the winner of this competition, will represent the Nittany Lions at the 2008 National Rube Goldberg Machine Contest, to be held at Purdue University on April 5.
Ivan Esparragoza, Associate Professor of Engineering and team advisor, said the 12 freshman and sophomore students worked diligently nights and weekends on the project and provided all the material and equipment used in the manufacture and assembly of the machine.
 
Curtis Chan, Coordinator of College Relations for the College of Engineering, said, "I was very impressed with the Penn State Brandywine team. They were very focused and enthusiastic. A great group of students."
 
Jane Harris, contest organizer, said, "I had a good feeling about the Brandywine team when I talked to Matt Liscowycz and Doug May on the phone last fall about the particulars of the contest. Their enthusiasm and dedication was obvious. The team did a great job, and I'm looking forward to cheering them on at Purdue on April 5."
See how they did it! 
View the You Tube Video!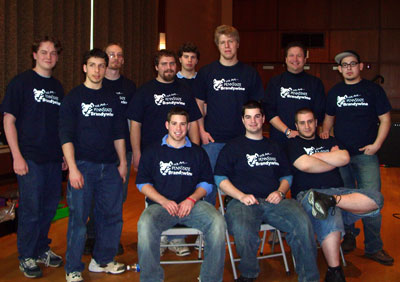 Standing from left to right; Branden Mulligan, Thomas Devine, Kenneth Moore, Anthony Dimonte, Christopher Miller, Gregg Nestel, Ivan Esparragoza, Marat Mardenov
 
Sitting from left to right; Eric Soring, Matthew Liskowycz, Douglas May 
Click here to View the web gallery.