Harpster spent her first two years at University Park before transitioning to Brandywine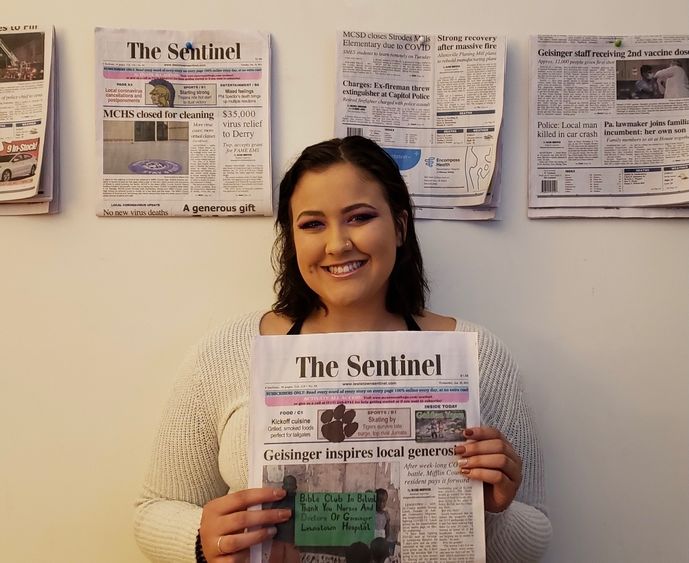 From covering breaking news to writing obituaries, Lewistown Sentinel reporter and recent Penn State graduate Lexi Harpster is making good use of the skills she gained while earning her communications degree at Brandywine.
"I write a lot of obituaries that come in, but I'm the nighttime news reporter so I do a lot of local stories as well," Harpster said. "I cover different borough council meetings and other local news. For example, I recently wrote about the founder of Juniper Community Missions who was in Geisinger Lewistown Hospital for a week and in honor of the nurses and doctors, he raised $4,000 to feed families in Haiti. That was on the front page of one of the papers."
Harpster said one aspect about working for a daily newspaper that she really enjoys is that every day can be different.
"The job changes every single day and I never know what I'm going to walk into," she said. "I never know what stories are coming up next. Also, everyone's so friendly and helpful. The amount of help that I get there is really nice, because they're so willing to help and check in on you."
Conducting interviews can sometimes be challenging, Harpster explained.
"Interviewing and calling people can be hard because I'm new at that," she said. "Some people answer short, and some people will tell you the whole story. So, something I have to get used to is speaking to people and trying to find out more information, especially if it's a harder subject that I'm writing about. It can be hard to find the right ways to ask questions and decide what to ask."
Harpster, who graduated last May, credited her professors and courses at Brandywine with preparing her to succeed as a full-time news reporter.
"Brandywine has helped me so much," she said. "In class, we wrote a million press releases, and we wrote some obituaries and some simulated news stories. I learned a lot about how to set up a story and how it's supposed to sound. And Brandywine really helped with how to be a good writer, even if you don't have all the information, and picking out what the best information is."
"When I was in class, it was like, 'This is just writing. It's simple. It's just telling a story,'" she added. "But I realized now that I learned a lot more than I thought I did. I think a lot about (Assistant Teaching Professor of Communications) Karen Theveny's class. When you're writing a headline for a story, she always said, 'You want it to be short and sweet, but you also want it to get the reader's attention to bring them into the story, without being dramatic.' And that really helped a lot."
She also said a sports writing class with Associate Professor of Communications Hans Schmidt gave her experience with a different style of writing and improved her foundational skills.
A State College native, Harpster spent two years at the University Park campus before deciding to try a smaller campus further from home. She transitioned to Brandywine, where she was active in many campus activities, including serving as a resident assistant in Orchard Hall. She also completed an internship assisting the Housing and Food Services office with social media.
"Every day was a special memory to me at Brandywine," she said. "I loved the environment and the small class sizes. I feel like it really helped me engage more in class and know my classmates. The faculty and staff know you by name. You're there as a person, not a number, and they really appreciate you."