In keeping with the "40th" theme throughout the past year, Penn State Brandywine raised more than $40,000 for student scholarships at its 40th Anniversary Gala May 10. More than 300 community members, faculty, staff, and friends of Penn State donated through silent and live auctions of forty-five Nittany Lion statues painted by various artists for the event held at Aronimink Golf Club in Newtown Square.
Famed Penn State football coach Joe Paterno was captured in the "Joe Paw" lion, complete with glasses, a football field and Paterno's autograph, painted by Penn State alum Jenny Franks of Manayunk. The winning bidder of this life-like lion donated $1,350. Other autographed lions included "Invincible," signed by former Philadelphia Eagle Vince Papale, auctioned for $750, and "Cappy," signed by Penn State alum and former running back for the Los Angeles Rams and San Diego Chargers John Cappelletti, auctioned for $700. Lions painted by budding artists from Valley Forge Middle School's sixth grade classes raised more than $500, and "Benjamin Franklion," wearing glasses and quotes from Ben Franklin himself, raised $1,025.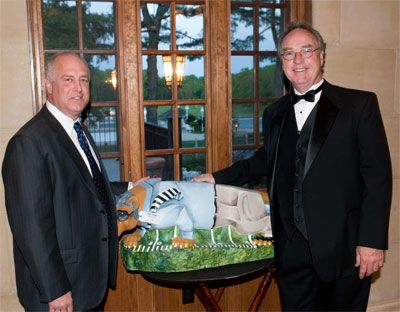 Michael Bradley, Penn State Advisory Board member (left), with Stephen Schukraft,
new owner of the "Joe Paw" Lion.
The campus also honored campus founder John Vairo and presented awards to six outstanding alumni for their achievements in various disciplines. They are: Malvern resident Jonathan Georgopulos, '96, in the arts; Media resident Sally Baumgardner Schukraft, '73, in business; Chester resident Curtis Fisher, '99, in education; Boston resident Eldrin Lewis, M.D., '91, in health care; New Haven, Connecticut. resident Douglas Sheridan, '00, in science and technology; and Aston resident David Powell, '82, for humanitarianism.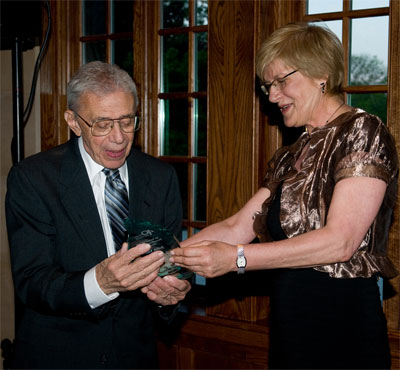 John Vairo, campus founder and first campus director, receives his award from Sophia Wisniewska, chancellor of Penn State Brandywine.


In addition to the 40th anniversary culminating event, the campus hosted a number of events and projects throughout the year, including 40 Acts of Kindness, an Athletics Banquet featuring keynote speaker Papale, a kickoff celebration, and much more.
To view photos from the Gala,
click here
. If you'd like to order prints, contact Debbie Blanton, 610-892-1252 or e-mail
[email protected]
.
To view the lions auctioned at the 40th Anniversary Gala, click here.
There are still lions available to purchase. Click here to view them.
To learn more about the six outstanding alumni,
click here
.