Did you know that Philadelphia has one of the highest child poverty rates in our nation?  Local food pantries help to alleviate child poverty and hunger, but donations often suffer in the summertime as people are more likely to donate during the cold winter months.  This summer has been especially tough since federal funding for food pantries has been cut, and the failing economy has slowed individual donations even more than usual.
One of Penn State Brandywine's own faculty members, Dr. Arnold Markley, regularly volunteered for a soup kitchen in Philadelphia, prior to an illness in January. In honor of his work, the campus helped raise donations to feed hungry children in the Philadelphia area. Food donations were dropped off at Brandywine's Vairo Library in early July. The food drive was initiated by Brandywine student Dana Gibson as a summer project to battle child poverty and hunger on a local level.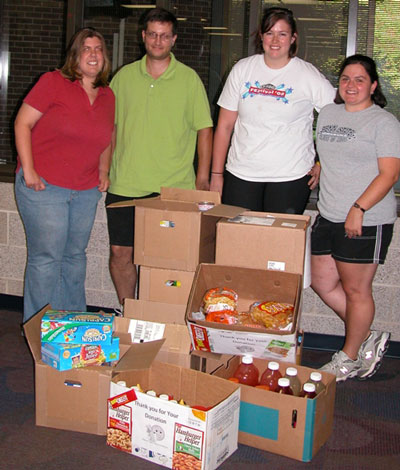 Penn State Brandywine senior Dana Gibson, of Morton; John Strickhouser, of Springfield, who is transferring to Penn State Brandywine this fall as a junior; Penn State alums Toni Hoffman, of Media and Michele McClellan, of Aston, united to organize the food donated by the campus community to benefit Philabundance, the region's largest food donation organization.
To learn more about poverty and hunger in the Philadelphia area from the region's largest food donation organization, Philabundance, please visit http://www.philabundance.org/.