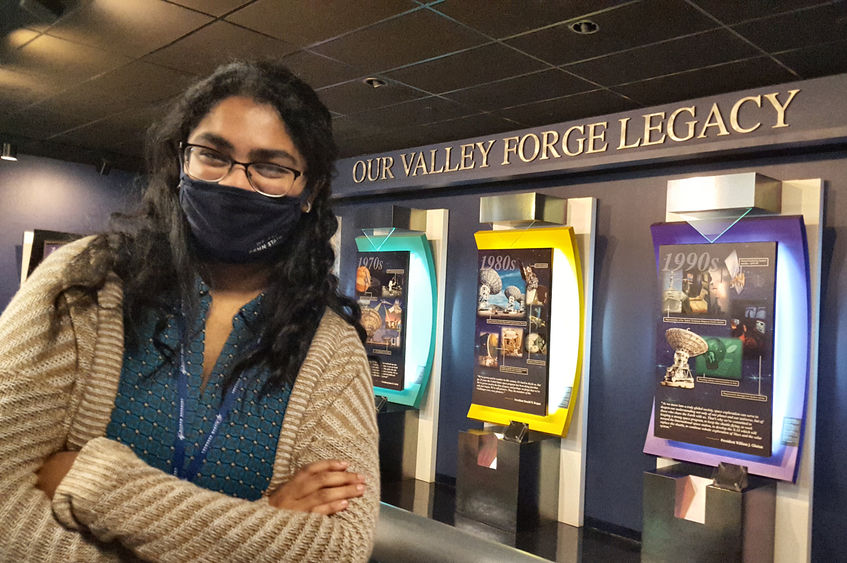 Himani Vommi, a junior pursuing Penn State Brandywine's new degree in cybersecurity analytics and operations, is currently completing an internship with Lockheed Martin that has given her insight into the security and aerospace industry and the professional experience needed to succeed after graduation.
The bachelor of science degree in cybersecurity analytics and operations, which Brandywine began offering this past fall, helps prepare students to protect digital information from attack through cyber-defense strategies. With a foundation in mathematics and computer programming, students will learn to recognize, analyze, defend against, and manage risks related to a wide range of threats to online information, data stores, and networks.
According to its website, Lockheed Martin is a global security and aerospace company that is engaged in the research, design, development, manufacture and integration of advanced technology systems, products and services.
As a software engineering intern with the company, Vommi is part of a team that writes computer code for Lockheed Martin's U-2 Dragon Lady plane, a high-altitude aircraft operated by the United States Air Force. The code Vommi is helping to write deals with a military tactical data link that allows varied assets, such as aircraft, ships and ground forces, to communicate and exchange data in near real time. Himani has already accepted an offer to return as a Summer 2021 intern to the same team — a testament to the level of work she's performing as an intern.
Vommi's internship started in June on a remote-work basis due to COVID-19 restrictions; however, she was able to start working on site this past fall.
"It's been a steep learning curve, but working at Lockheed is very rewarding," said Vommi, who's also earning a minor in computer science. "I'm really honored to be a part of this team. It's amazing to think that some of the code I've written has been presented to government clients and will be used on the plane."
Vommi said that her time at Lockheed Martin has shifted her career focus and refined her post-college goals, noting that "the entire internship experience has just been so eye-opening for me."
Although fulfilling, the internship has come with its own set of challenges, which Vommi has embraced and handled with confidence.
"One of the biggest challenges is just keeping up with all of the new information," she said. "I'm so new to this industry that there can be periods of 'information overload.' However, overcoming challenges is also one of the most rewarding things about my internship. Each day, I'm continuing to build upon the new things I've learned."
That ability to overcome challenges started in the classroom at Penn State Brandywine. Vommi said that Assistant Teaching Professor of Information Sciences and Technology Andy Landmesser and Lecturer in Information Sciences and Technology Nannette D'Imperio were among the many faculty members who prepared her for her role with Lockheed Martin.
"Internships are important so students understand the relevance of their received course curriculum by applying in real world situations," Landmesser said. "Internships also help students differentiate themselves from other students upon graduation. Himani's performance at Lockheed shows her dedicated work ethic."
"Bridging the gap between class and work is really rewarding," Vommi added. "It's fun to see how what I'm learning at Brandywine gets translated into the workplace. I'm also able to bring my work experience into the classroom, so it's a two-way street. Overall, I think I've really grown as a student and a professional throughout this process."
Vommi is an involved member of the campus community in several other ways. Currently, she is president of the campus' Information Sciences and Technology/Security and Risk Analysis Club (IST/SRA Club) and co-chair of the Brandywine Events and Activities Support Team. Previously, she served as vice president of the Women in Engineering Club and secretary of the Multicultural Club. Vommi is also a Schreyer Honors Scholar.
"With this heavy workload, including Schreyer Honors requirements, many students would shy away from additional leadership," Landmesser said, "but Himani became president of the IST/SRA Club and has leadership roles in other clubs at Penn State Brandywine."
"Brandywine is like a home away from home to me," Vommi added. "My focus has shifted over the years, but I always want to give back to the campus and be involved with student life as much as possible."