Three of four Penn State Brandywine students who entered the Media Arts Council annual photography competition—Icons of Media, A 2nd Look—were among the finalists chosen by judge Stephen Perloff, editor of The Photo Review, The Photograph Collector, and Focus Magazine. 
Students in Connie Kirker's art class paired up with students from Norma Notzold's American Studies class, with the art students taking the photos, and the American Studies students writing 25-word descriptions. Kirker, assistant professor of integrative arts, and Notzold, instructor in education, encouraged the students to compete against professional and amateur photographers from around the greater Media and Philadelphia areas.
All photographers were asked to focus on the "icons" of Media, Pa. According to the Council's Web site, the photographs were to "depict subject matter that resides in or originated from the Borough of Media. Works submitted provide a '2nd Look' or an insight into something unusual about the town that might not be noticed upon a first impression of Media."
Photographs taken by the four Penn Staters who entered the competition, Magen Castronova, Costas Vlioras, Karl Skotleski, and Ashley Eyster, are currently on display in the campus' Vairo Library.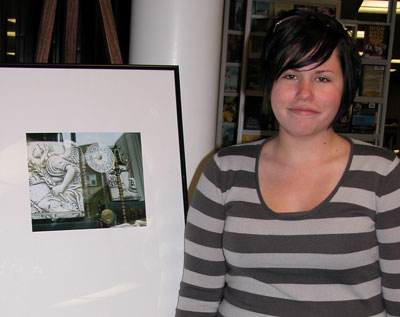 Magen Castronova, "Sunflower World"
Ashley Eyster, "Drip for a Drop"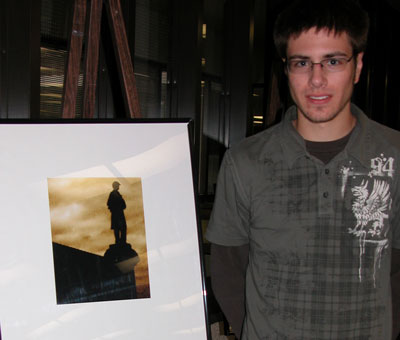 Karl Skotleski, "Lone Guard"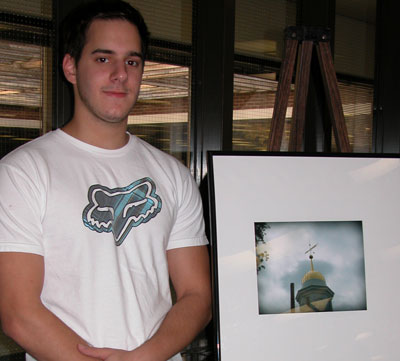 Costas Vlioras, "Weather Vane"