Since 1990, Penn State alumnus Aldo Magazzeni has dedicated much of his life to bringing clean water, shelter, and hope to those in need  around the world through his charitable organization, Traveling Mercies. Photographs of his journey helping poor and neglected people in Afghanistan and Africa are currently on display until March 6 in the Penn State Brandywine John D. Vairo Library.
The exhibition, titled Traveling Mercies: Humanitarian Journeys into Afghanistan and Africa, includes photographs from Afghanistan and Kenya, taken from 2002 on. In these powerful images, Magazzeni documents the struggles of women who wish to be educated in Afghanistan, the restoration of hope for Kenyan orphans with HIV, and the satisfaction of villagers who finally have clean, safe drinking water.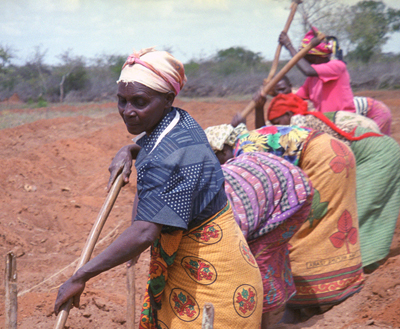 (Women are determined and united to build the water system.)
"The photographs give a voice, not to me or to the photo, but to the people," he said. "They provide a way for me to capture and remember them; to record a relationship and an experience with the people I meet."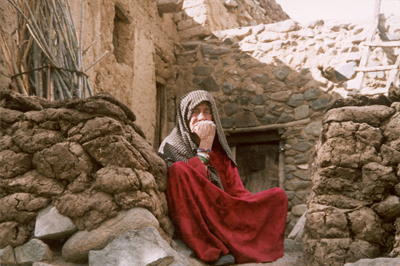 He has implemented training programs and created a day care center for women in the Kabul jail and installed thousands of meters of water pipe and built storage tanks that supply water to more than 2,000 people in five villages in the Panjsher Valley, near the Hindu Kush Mountain Region. The water system in Herat City will benefit more than 20,000 people.
In Kenya, Magazzeni helped build a self-sustaining village for AIDS orphans; in Ethiopia, he cared for dying AIDS patients; he provided blankets and food for victims of Afghanistan's 2006-07 winter storms; and bought new computers and supplies for the Harrison Vocational Training School, in Gulf Port, Miss. after Hurricane Katrina. In his hometown of Philadelphia, Magazzeni supports the Salvation Army and the Women of Hope Shelter.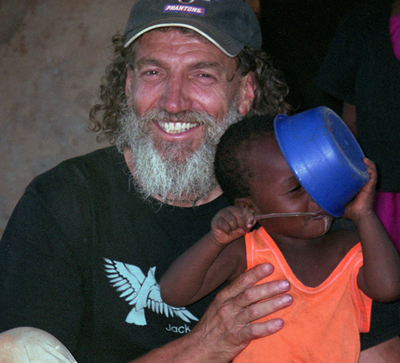 (Aldo Magazzeni with Kenyan child.)
Since he began using his camera to connect with people around the world, Magazzeni has traveled the East Coast to share his photographs and educate people about how they can help.
For information on upcoming events regarding the exhibit please periodically check for updates on this site. The exhibition is open to the public during normal library business hours now through March 6.
To learn more about Magazzeni's work abroad, see more photographs, or learn how to help, visit http://www.travelingmercies.org/.