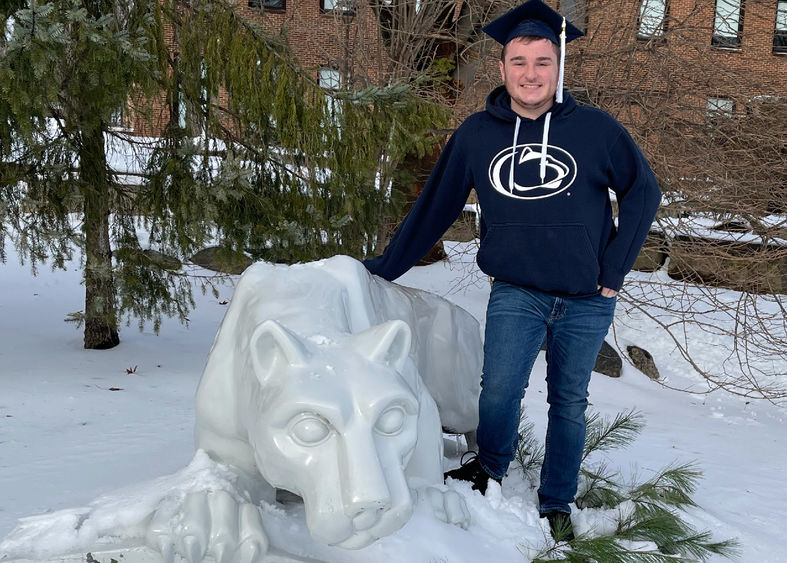 As Penn State conferred degrees upon its fall graduates during a virtual commencement ceremony on Dec. 19, nearly 60 Penn State Brandywine seniors watched the livestreamed event and celebrated their achievement with immediate family at their homes. The virtual ceremony was necessitated by the coronavirus pandemic.
The ceremony was led by Penn State President Eric Barron. The commencement message was delivered by Wanda Bryant Hope, chief diversity, equity and inclusion officer for Johnson & Johnson and a Penn State alumna.
Immediately prior to the virtual ceremony, Penn State Brandywine graduates joined their faculty in Zoom video conferencing rooms for a chance to reminisce and say goodbye. The graduates also viewed a special Brandywine commencement web page that included video messages from the campus chancellor, faculty and staff, and the graduates themselves.
In her message to the 54 graduates, Brandywine Chancellor Marilyn J. Wells encouraged them to reflect on how far they have come and to be open to the many possibilities that lie ahead.
"Commencement marks a momentous occasion in your life – the completion of your Penn State degree," Wells said. "It's the end of one chapter in your story and the beginning of another.  You have achieved this milestone under daunting circumstances — but you persevered, maintained your focus, adapted and succeeded."
"It has been such a joy to watch you achieve so much during your time with us," she said. "In our classrooms, in your research and internships, through your participation and leadership in clubs, athletics, and civic and community engagement — you have made an impact on campus and in our communities."
Kaylynn Edwards expressed her appreciation for the campus faculty.
"Penn State Brandywine was not only a place where I felt welcomed, but it was a place where I felt safe," said Edwards, who earned a bachelor's degree in psychology. "During the hardest years of my life, the faculty at Penn State Brandywine stood by my side and ensured that I was able to receive my education. I am so proud to be able to call myself a Penn State alumna."
Katelyn Charlton also earned a psychology degree.
"Graduation for me is extremely important," she said. "I am the first child out of four graduating college in my family. I am celebrating my graduation at home with my family. I am looking forward to applying to children's hospitals and starting my journey toward becoming a child life specialist."
Alyssa Plotnick earned a degree in American studies. She started taking classes right after finishing high school through Penn State's Pathway to Success Summer Start (PaSSS) program, which allowed her to graduate a semester early.
"Going to Brandywine taught me so much," Plotnick said. "The campus is small and everybody knows everybody. There are so many chances to thrive on campus."
As Plotnick celebrated her graduation, her father Paul, who died in May, was very much on her mind.
"He was also a Brandywine alum and he drove me to class almost every day," she said.
Plotnick plans to pursue a career in politics, history, writing or public relations.
Shaimun Alam earned a degree in information sciences and technology. She plans to apply to graduate school at Penn State.
"My time at Brandywine was a memorable and valuable experience," Alam said. "I have met so many people, made new friends, and developed relationships with my professors and advisers. Brandywine is a small and intimate campus and there is a strong sense of community."
Penn State Brandywine has committed to hosting in-person celebrations for the Class of 2020 when public health guidelines allow.
With more than 1,300 students, Penn State Brandywine is a residential campus offering 14 bachelor's degrees and the first two years of nearly all of Penn State's 275 majors.