Ivan Esparragoza, associate professor of engineering, who was one of three University faculty members honored with the Alumni/Student Award for Excellence in Teaching and named 2009 Penn State Teaching Fellows.
Sophia Wisniewska, chancellor of Penn State Brandywine, attended the awards luncheon at University Park. "This is a great honor, but not surprising, given the scholarship, energy, devotion and creativity that Ivan brings to his students inside and outside of the classroom. This year the University received over 500 nominations for 44 faculty and staff awards, so the competition was very keen. We are so proud of this honor and it couldn't have been awarded to a more deserving faculty member," said Wisniewska.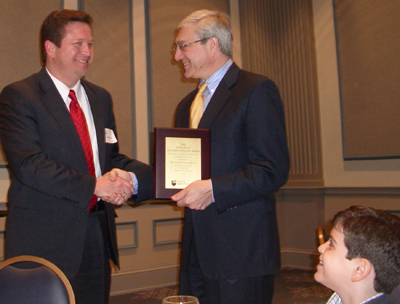 Esparragoza's son watches as his father (left) accepts his award from President Spanier.
To read the full story, click here.