It was more like an international fiesta than a fundraiser, from the Japanese robes to the Irish kilts, and with Aston resident and CBS 3's ever-enthusiastic Susan Barnett at the helm as emcee for the evening. But fundraise they did. Penn State Brandywine reveled in its diverse campus community with more than 200 guests in celebration of its international programs and outstanding alumni on campus Saturday, May 2. The almost $20,000 raised at the annual fundraiser, titled this year "Around the World with Penn State Brandywine," will benefit the Campus Scholarship Fund.
Surrounded by international music provided by the Philly Horn Band and the campus' own ethnomusicologist, Paul Greene, associate professor of integrative arts, the campus auctioned everything from a trip to Jamaica to Penn State football tickets to beautifully painted art. Guests dined on internationally-themed hors d'oeuvres, dinner, and dessert, coupled with wine and beer from around the world.
As host to five study abroad trips each year, which have sent more than 1,500 students and community members around the world throughout the last 15 years, and home to one of the most diverse student bodies in the Penn State University system, Penn State Brandywine had a lot to celebrate, including four distinguished alumni who were honored that night for their extraordinary achievements in business, education, politics, and community activism.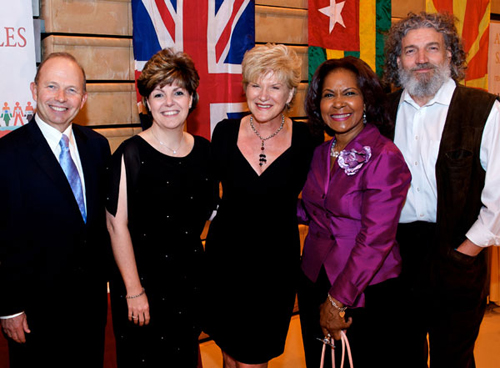 During its annual fundraiser to benefit student scholarships, Penn State Brandywine celebrated its international campus and study abroad progras while honoring its distinguished alumni for their outstanding achievements on May 2 on campus. Pictured with campus Chancellor Sophia Wisniewska(center), the honorees, (from left) Jerry Parsons, of West Chester, Tish Szymurski, of West Chester, Blondell Reynolds Brown, of Philadelphia, and Aldo Magazzeni, of Perkiomenville, were recognized for their dedication to business, education, politics, and community activism, respectively.
Philadelphia Councilwoman At-Large Blondell Reynolds Brown, a resident of Philadelphia's Wynnefield section, was honored for her dedication to enriching the lives of Philadelphia residents as an educator, community activist, and political leader.  A 1974 graduate of Penn State, Reynolds Brown is known for her efforts to improve the quality of life for city residents through arts, small business, and youth orientation initiatives.
"Women Making a Difference Celebration," Brown's adopted signature program held annually in March, showcases women's accomplishments and has grown to provide a platform for supporting issues and organizations that impact women, children, and families. Her involvement in the community is reflected not just in the many initiatives she has sponsored, but also in the many hours outside of work she devotes to a variety of organizations, such as the Philadelphia Convention and Visitor's Bureau and the Greater Philadelphia Cultural Alliance, among many others.
A 1972 University graduate, Aldo Magazzeni, of Perkiomenville, was a shoe-in for the community activism award because of his selfless commitment to helping those in need around the globe. He is founder and director of Traveling Mercies, "a non-profit foundation dedicated to helping others, while creating a vehicle to remove barriers between cultures so that individuals can share their strengths, assets, and blessings with each other." His foundation is a vehicle to raise awareness and money to help people in countries like Afghanistan, Italy, Jamaica, Haiti, and right here in the United States, to name a few.
Magazzeni brings shelter and hope to poverty-stricken villages around the world, builds day care centers for the children of women in prison in Afghanistan, and has installed thousands of meters of water pipe for people who lack access to clean water. He takes photographs to capture the lives of those he meets on his journeys and to spread the word about their fight for a better life. And his word has traveled far. During the event, Magazzeni was presented with a check for $5,000, raised solely by students on campus who were so inspired by his message that they decided to raise money to sponsor an entire water system for his next project, wherever that may be. They were only $2,000 short of what it typically costs to build and aren't giving up until they've raised it all.
Dr. Tish Szymurski, who is still tied to the campus through her husband, Assistant Professor of Communication Arts and Sciences Thomas Yannuzzi, was honored for her more than 20 years of experience in higher education. As dean of Continuing Adult and Professional Studies at Neumann College, she emphasizes service and effective relationships, and has initiated many collaborations and joint ventures to assist adult learners.
Szymurski's career in higher education has taken her to Penn State Brandywine, Drexel University, The Wharton School at the University of Pennsylvania, and the University of Delaware before assuming her current role at Neumann College. She was recently elected as the national president for the Association of Continuing Higher Education (ACHE), is a charter member of the Graduate Philadelphia initiative, and was one of 13 recipients worldwide of an international Fellowship for the 2008 EDUCAUSE Leadership Institute for instructional technology. A 1986 graduate of the University, Szymurski, of West Chester, is dedicated to creating opportunities for others to access learning.
In the area of business, the campus honored a man whose story could inspire anyone looking to start from the ground up. Literally. It all started in his father's garage. Jerry Parsons, of West Chester, was a member of one of the first freshmen classes to enter Penn State Delaware County in January of 1971. Shortly after graduating, Parsons and his father, Donald, began a small business in their garage in West Chester. Today, Communications Test Design, Inc. (CTDI) is an international telecommunications service provider with more than 4,000 employees in 39 locations worldwide.
Parsons travels extensively worldwide, but still finds time to be active in several community organizations, such as the Archdiocese of Philadelphia's Board of Education. He has also been instrumental in the planning and development of two new, state-of-the-art high schools in Montgomery and Bucks Counties slated to open in September 2010 and 2012, respectively. In 2004, the National Catholic Educational Association awarded him the St. Elizabeth Ann Seton Award and the Papal Honor of Sir Gregory the Great for his personal devotion to Catholic education and was inducted into the Chester County Business Hall of Fame.
To view a photo gallery of the event, click here.
To purchase photos from the photographer, click here, and enter 050209 in the password field.