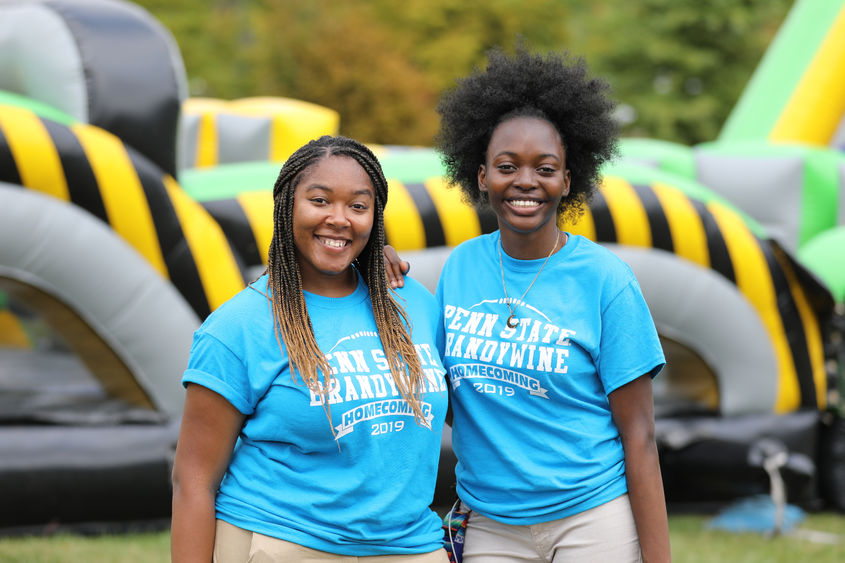 MEDIA, Pa. — When Penn State Brandywine opened its first residence hall in August 2017, it was a milestone in the campus' 53-year history. Four years later, hundreds of students have spent at least some time living in the 250-bed Orchard Hall, but at least half a dozen have resided there since it opened.
For them, the convenience, the friendships formed, and the independence have made their residential experience a hallmark of their time at Brandywine.
Three of the students who have lived in Orchard Hall since its opening came to Brandywine from varied distances: Nicole DiMauro is from Delaware County, where the campus is located; Jemimah Mwaba is from the state of Delaware; and Keiaisha Jackson is from South Carolina. For DiMauro and Mwaba, staying relatively close to home was a plus, while Jackson was looking for a college experience that would take her to a new area.
"I wanted to stay in state and I wanted to be close to home, but I didn't want to commute," DiMauro said. "So when I heard Brandywine was building a residence hall, it was like, "Oh, that's perfect. They have everything that I need."
"Brandywine was far enough for me, but it was also close enough for me to go back home on the weekends if I wanted," Mwaba said.
For Jackson, her journey to Brandywine was a little more serendipitous. She was interested in Penn State and was considering Abington, which also opened a residence hall in 2017. When Abington's housing filled up, Jackson was referred to the nearby Brandywine campus.
"Pennsylvania was far enough away that I felt like I was going to explore a different part of the country and kind of get outside of my comfort zone a bit," Jackson said. Although she originally planned to transition to University Park for the "big college experience," Jackson ultimately decided to complete her degree at Brandywine — deciding to stay because of her professors, the research and internship opportunities, and the connections she made.
Each student said she felt welcomed and formed friendships from the first semester.
"I was nervous and excited coming in," DiMauro said. "but it really surprised me how fast you build a community of friends. We had a group of people that we were hanging out with within the first weekend. We moved in on Thursday and then Sunday we're hosting movie nights in my room. I thought that was incredible that we were able to build a community so fast with people that were on our floor."
"I still remember my first year," Mwaba said. "I feel like that was the most welcoming welcome I've ever experienced. I think it might also have been because the halls were new, so everyone was so excited. And I also liked that it wasn't so big and you recognized everyone in the building."
Jackson, too, appreciated the warm welcome she received as a first-year student.
"The RAs our first year did a great job of making sure everybody felt comfortable and it really felt like everyone was on the same playing field," she said. "So, that was very comforting. And then another thing I liked in previous semesters was going to events in the residence hall and really connecting with other students."
DiMauro and Mwaba took their on-campus experience a step further by becoming resident assistants. For them, a key motivation for becoming an RA was to provide the same welcoming experience to incoming students that they received.
"I love every bit of this job," said DiMauro, who is in her second year as an RA. "I love the programs. My first year I wasn't as involved, but my sophomore year my RA was very present. I really looked up to him, and the Residence Life office kind of changed how I viewed living here. I started going to programs, and I participated in one program in particular that really helped me build my confidence. I wanted to do the same for other residents."
Mwaba became a resident assistant (RA) this past January. She had an interest in the position from the beginning but was heavily involved with other campus activities her first two years.
"As my workload and my commitments started to go down, I felt like, 'Oh, now I have time to do this, now I can be an RA,'" she said. "I wanted to be a person for someone else to be like, 'Oh yeah, I had such a warm welcome when I came to Penn State,' so that's why I wanted to be an RA."
Elizabeth Kearns, director of housing and food services for Brandywine and Abington, has seen the positive changes Orchard Hall brought to the campus, along with the new Student Union that opened at the same time and includes the dining hall.
"Orchard Hall was another step in providing a different service for our students," she said. "It creates another dimension for Brandywine that wasn't there before, and some of the students who are graduating from Brandywine wouldn't have picked our campus if there hadn't been housing."
With the residence hall and Student Union, Kearns said "it seems that now students linger more, they hang out together, there's a lot of socializing in a normal year. They're comfortable. They feel like it's home, even the commuter students who use our dining hall. Brandywine has always had a sense of community, but the residence hall has deepened that."
Despite the occasional hiccup — a less-than-ideal roommate, for example — the students wholeheartedly encourage others to experience living on campus.
"I think for sure that living on campus should be an experience that many people should try at least once in their life," Mwaba added. "Get out of your house and live with someone else. Try that for a semester, a year. I'm glad that all my experiences with a roommate have been positive, because I'm really good at navigating personalities and conversations in that type of way."
"I'm really glad that I decided to take a chance and move here," Jackson said. "I feel like just putting yourself out there and really trying to form connections will take you a long way. And Orchard Hall has really provided a lot of opportunities to do that.
"I was worried that being on a small campus was going to be too stifling and I would get bored, but Orchard Hall pulled through and I was able to form connections with residents who became best friends of mine. And I just really love the communal atmosphere here."