In keeping with their focus this academic year on universal primary education, Penn State Brandywine honors students are raising money for children in Ghana, Africa to help pay for their schooling. In just four hours on Monday, Nov. 2, the students raised almost 160 dollars in quarters (360 dollars in total) for the Heritage Academy, a co-educational primary and junior high day school founded in 2004 by Kwesi Koomson, a math teacher at the Westtown School in West Chester, and his wife, Melissa.
The quarter mile trail of quarters from the Tomezsko Classroom Building to the Vairo Library will be given to the Heritage Academy, located in Koomson's home village of Breman Esiam in the central region of Ghana, to enable students in the regions to attend secondary school and beyond.
In 2006, the Koomsons established the Schoerke Foundation, which offers scholarships to Heritage students and others in the district based on merit and financial need.
During the week of November 2, the campus was lucky enough to speak directly with Koomson during a visit to campus to discuss the Academy. The honors students also hosted an open mic session, where they discussed the quarters project and the importance of universal primary education, and they even decided to write letters to the students at the Heritage Academy.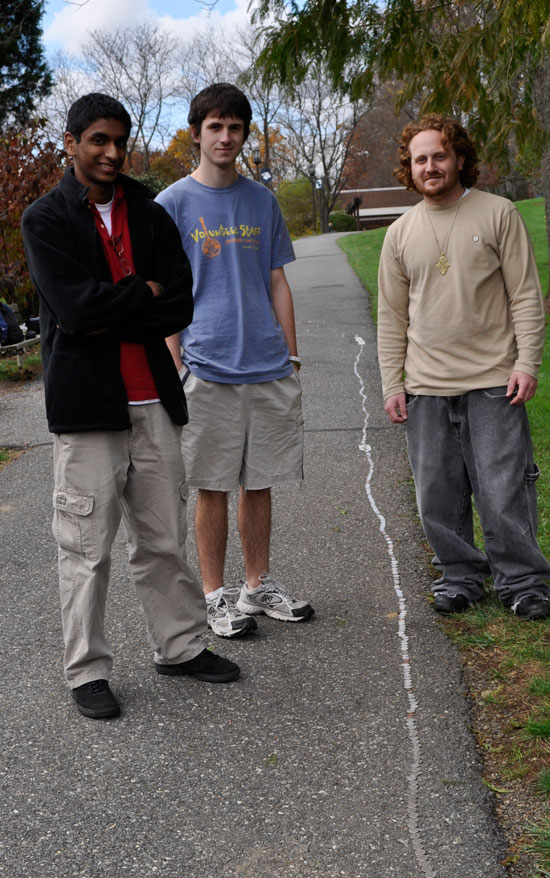 Honors students, Joel Idicula, David Daley and Benjamin Bean (left to right) collect quarters for students in Ghana.
For more information on the Heritage Academy and Schoerke FoundatHion, visit http://schoerkefoundation.org.