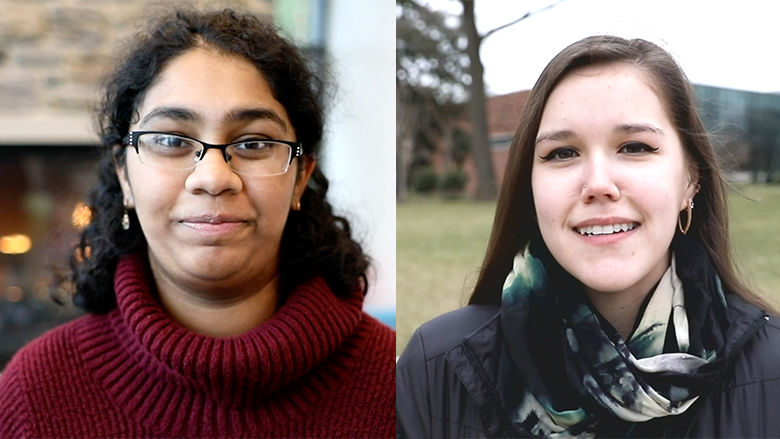 Two Penn State Brandywine students — both pursuing the campus' new degree in cybersecurity analytics and operations (CYAOP) — recently attended a virtual conference on Women in Cybersecurity.
The Nov. 14 event, hosted by Boston Cybernetics Institute, offered a hands-on workshop for undergraduate women focused on the fundamentals of cybersecurity, along with a career panel and networking.
Junior Himani Vommi and sophomore Marge Reynolds found both the workshop and the career panel very valuable.
"I was particularly happy about seeing the different exercises and activities that they did lined up with what we did in one of my classes," Vommi said. "It was a cybersecurity class, and one of the activities we had to do involved a buffer overflow attack, and that's something that we did as a lab in class. It was nice to see the stuff that I was learning is relevant to new attacks."
"I would say I definitely took away some extra skills," Reynolds said. "We worked in Linux and virtual machines, so that's helpful."
Reynolds said the panel discussion with three women in cybersecurity added valuable perspective on the field and career opportunities.
"The panelists all had different backgrounds, and learning about their experiences was really helpful," she said. "When I asked them what it's like being a woman in this field, all of them gave me super real answers, and I really appreciated that. They emphasized the importance of speaking up and being heard."
Vommi agreed, saying "It was very eye-opening to listen to them talk about their experiences and how they faced adversity as a minority or as a woman in a primarily male-dominated field — how they kept up with the industry, and how they chose to pursue this field, and stay on top of new strategies, new tactics."
Vommi added that she is often one of few women in her classes.
"Seeing that reminder that, yes, other women are out there in this field, and even pursuing leadership positions, is very encouraging," she said. "It's something that I hope other women and other female students, as they come into Brandywine, or are thinking about this field, can continue to see."
Reynolds said she was interested in a career in a technical field and an Intro to Cybersecurity class piqued her interest.
"We're going to use technology forever for everything in the future, and it's a field that is still new and growing," she said. "You're constantly learning, things are constantly updating and moving. I like that fast pace."
Vommi, who originally planned to major in computer science, was also attracted to the program through an Intro to Cybersecurity course. She is now seeking a computer science minor.
Andy Landmesser, assistant teaching professor of information sciences and technology, said conferences like Women in Cybersecurity are important to encourage greater involvement of women in the field.
"Currently, women are underrepresented at Penn State Brandywine in the cybersecurity analytics and operations major at only about 20% of students," Landmesser said. "Confidence-building events like the workshop hosted by Boston Cybernetics Institute where our female students can engage with other successful professional women can only help our students excel."
"These events also help our students build their professional network and learn about different areas to focus their cybersecurity careers," he added. "A final benefit is reinforcing the CYAOP curricular experiences from the classroom with professionals actively employing these cybersecurity skills in industry."
The bachelor of science degree in cybersecurity analytics and operations, which Brandywine began offering this fall, prepares students to protect digital information from attack through cyber-defense strategies. With a foundation in mathematics and computer programming, students will learn to recognize, analyze, defend against, and manage risks related to a wide range of threats to online information, data stores, and networks.