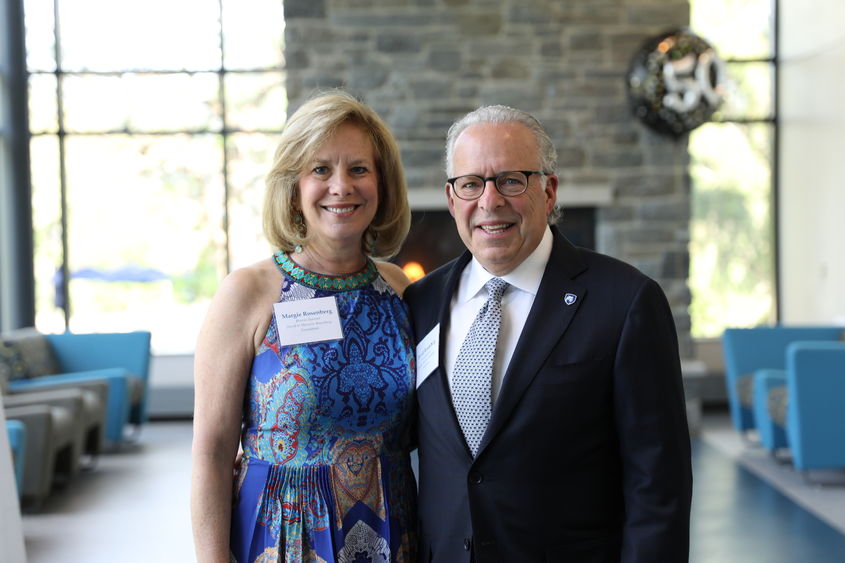 David M. and Marjorie Rosenberg, friends of Penn State Brandywine, have pledged an estate gift of $250,000 to the campus' Center for Ethics and Civic Engagement, which seeks to develop pathways for students to become socially responsible leaders and citizens who are prepared to create positive change in the world. David, who serves as a fundraising leader for Penn State Brandywine, was a driving force behind the center's launch in 2018.
"At Penn State Brandywine, we view ethics and civic engagement as keys to preparing our students to be responsible citizens who find solutions to our world's most pressing challenges — hunger, educational quality and access, employment opportunities and economic growth, peace and justice, and reduced inequalities," said Marilyn J. Wells, chancellor of Penn State Brandywine. "The Rosenbergs share this belief, and their estate gift will be tremendously valuable in helping the Center for Ethics and Civic Engagement achieve its full potential in future years."
The Rosenbergs have previously given to both the University Park and Brandywine campuses of Penn State, including a gift to name the directorship of the Center for Ethics and Civic Engagement. Though David Rosenberg is a 1974 alumnus who attended the University Park campus, the couple now live in Villanova, Pennsylvania, and David is actively engaged at Brandywine, where he serves as both a member of the campus' advisory board and chair of its development committee in the University's current fundraising campaign, "A Greater Penn State for 21st Century Excellence."
"David is more than a donor: he is a colleague and champion of our campus, and he is a man of character, with a lifelong personal commitment to bettering people's lives," Wells said. "I'm very grateful to him and Marjorie for their deep commitment to Penn State and their passion for Brandywine."
"Penn State Brandywine is very much a community-focused campus," David Rosenberg said. "We're consistently impressed by the diverse group of hardworking students and by the faculty and staff's commitment to them. We're also amazed by how many students give back to the community. The Center for Ethics and Civic Engagement is formalizing that impulse as part of Brandywine's culture, and it encourages students to think and talk about ethical decision-making — about the implications of their actions for themselves, the communities they live in, and the broader world. We are proud to support the center well into the future."
The Center for Ethics and Civic Engagement engages students in nonprofit internships, community-based learning assignments, volunteer opportunities with community partners, and campus civic engagement events. Current and recent initiatives include:
A federal work study program involving local schools, nonprofit organizations, and public service agencies
Campus-wide voter registration and education campaigns
A Presidential Mock Nominating Convention that helps students learn about and engage with the political process
The annual MLK Day of Service Celebrations that focuses on acts of kindness, inclusion and artistic expressions of Dr. Martin Luther King's legacy
The Campus Food Pantry, which is managed and operated by students, for students
"The center truly embodies Penn State Brandywine's character and values," said Vippy Yee, Rosenberg Director of the Center for Ethics and Civic Engagement. "It has rapidly become a showpiece for our campus and a nexus for our students — a place where they can think and learn, create and collaborate. We envision the center having an increasingly central role in student life as it supports and encourages them on their journey to becoming professionals and leaders in their fields and responsible citizens in their communities. The Rosenbergs' gift will expand on their already remarkable generosity to the center and enhance whichever initiatives are most pressing at the time it is received."
David Rosenberg graduated from Penn State at University Park with a bachelor of science degree in health and human development and received his juris doctor degree from the Howard University School of Law. Now retired from a career in environmental insurance, he devotes his time to philanthropic work. He serves on many regional organizations' boards and committees, including the Children's Hospital of Philadelphia Foundation Board of Overseers.
Marjorie Rosenberg received her bachelor of arts degree in marketing from Saint Joseph's University. After a career in banking, she left the business world to raise her and David's three children. She also started her own nonprofit organization, Care Squares, in which volunteers knit afghans for women transitioning form prison to society, as well as babies and birth mothers working with Jewish Family and Children's Service of Greater Philadelphia's Open Arms Adoption Network.
Through the David and Marjorie Rosenberg Foundation, the Rosenbergs support a variety of nonprofits with a primary focus on the areas of character development and children and youth.
Marjorie Rosenberg explained that this most recent gift is part of a new phase in their philanthropy. "David and I are at the point where we are starting to reflect on our lives and our legacy, and the pandemic has spurred us to think more seriously about what we leave behind when we're gone," she said. "This is by no means a final gift to Penn State for us, but it's the first step in our estate planning. We also hope it will inspire others to step forward and support Penn State Brandywine in ways that are meaningful to them."
The Rosenbergs' gift will advance "A Greater Penn State for 21st Century Excellence," a focused campaign that seeks to elevate Penn State's position as a leading public university in a world defined by rapid change and global connections. With the support of alumni and friends, "A Greater Penn State" seeks to fulfill the three key imperatives of a 21st-century public university: keeping the doors to higher education open to hardworking students regardless of financial well-being; creating transformative experiences that go beyond the classroom; and impacting the world by serving communities and fueling discovery, innovation and entrepreneurship. To learn more about "A Greater Penn State for 21st Century Excellence," visit greaterpennstate.psu.edu.