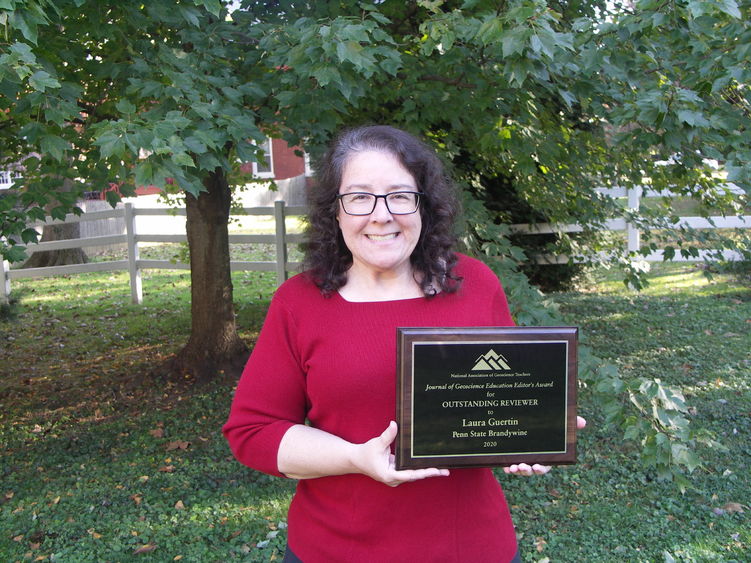 MEDIA, Pa. — Laura Guertin, professor of Earth science at Penn State Brandywine, recently received the 2020 Journal of Geoscience Education (JGE) Outstanding Reviewer Award. Each year, the national honor recognizes the work of the journal's top peer reviewer in assessing articles submitted to the publication.
According to its website, the JGE is the National Association of Geoscience Teachers' peer-reviewed publication for geoscience education research. It serves as a forum for research concerning the pedagogy, assessment and philosophy of teaching and learning about the geosciences.
Associate editors of the journal nominated Guertin for the award in recognition of the quality, quantity and promptness of her article reviews.
"It was a pleasant surprise when the editor of the journal sent me an email congratulating me for receiving this award," Guertin said. "I don't do this for recognition. That's not why I choose to review papers, and that's not why I'm a faculty member. But it's very humbling to realize that my peers recognize, acknowledge and value the contributions I'm making."
Guertin has been a reviewer for the JGE for more than 20 years and has had several of her own research articles published in the prestigious publication throughout her career.
"One of the reasons I like reviewing journal articles is it lets me see what others are doing in my discipline," she said. "It also allows me to help mentor others by improving their papers so that these best practices in teaching and learning can be shared within the community."
What inspires Guertin most about her work with the JGE?
"I need to be the best instructor possible for my students," she said. "This is my chance to help students learn about the world they're living in and how they can improve it. Volunteering with the Journal of Geoscience Education and being involved in geoscience education research helps me become a better instructor."