Little did she know, as a curious, over-achieving seventh grader participating in Penn State Brandywine's Math Options Career Day program, that one day, more than a decade later, she would be on the other side of the desk as a professor teaching similar concepts to a bright group of seventh grade girls attending the same program on Friday, May 21.
Funnier still, Jennifer Zosh, assistant professor of health and human development at the campus and an Upland resident, taught in the very same room in the Main Building that she sat in as a student attending the program in the mid '90s.
Zosh, who received her Ph.D. in psychological and brain sciences from Johns Hopkins University, has a clear memory of that day years ago when she came to the campus for a day of education and fun structured around math and science.
"What I remember most is that my mom drove me, that I built a bridge out of straw, I got a T-shirt and it was a fun day away from regular school," she laughed.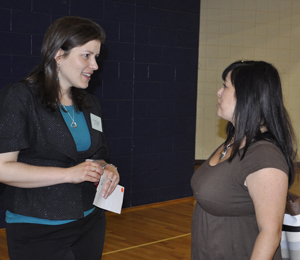 Penn State Brandywine Assistant Professor of Human Development and Family Studies Jennifer Zosh, once a participant in the campus' Math Options program for seventh grade girls, speaks with a parent after presenting at the workshop.
The bridge building exercise, called "Straw Wars," involved teamwork to design and build straw masterpieces that were evaluated by the presenters on product design and structural integrity.
The future scientist, who attended Our Lady of Charity in Brookhaven at the time, even saved her worksheets used in the program. "I enjoyed math and science in school," Zosh said, "but Math Options was the first time I saw theoretical concepts applied."
Math Options is an annual event at which girls from local elementary and middle schools visit the campus, attend workshops and begin to explore career opportunities available to them in math and science fields. Often, these young women learn about opportunities in these fields for the first time. The Math Options Career Days have been partially funded by grants from ARCO, Bell of Pennsylvania and Lockheed Martin Corporation.
While many girls are continuing math and science coursework throughout high school and winning awards, few choose math or science majors in college. At Math Options, women who are role models in professions such as engineering, technology, research science or veterinary medicine, and provide workshops, problem-solving sessions and panel discussions to help girls understand how math and science are used in their professions and realize their own potential and career options.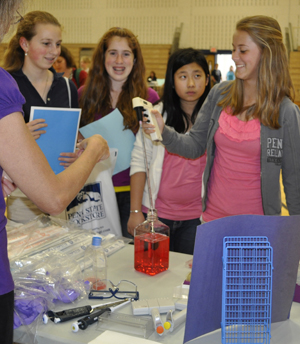 Local seventh grade girls have fun with science at Penn State Brandywine's annual Math Options program.
Lockheed Martin Corporation, Boeing Defense, Space & Security Division, the Pennsylvania Department of Environmental Protection, URS Corporation and Stratus, Inc. are just some of the companies that participated in this year's Math Options.
In addition to "Straw Wars," some of the workshops included "Making Silly Putty," "Your Blood Cells and How They Work," "Cleaning Up Oil Spills" and "What Makes Things Fly?"
Zosh, whose area of expertise is memory development in infants and toddlers, taught a workshop with co-presenter Caroline Montojo, titled "Using Psychology to Learn about the World," with hands-on experiments designed to demonstrate how psychology allows people to explore the mind.
Patricia VanLeuvan, associate professor of education, has been the coordinator of the program at Penn State Brandywine since 1992 and was delighted to have Zosh as a presenter. "Other seventh grade participants have returned as professionals to present at Math Options, but they were not faculty colleagues," VanLeuvan said. "There are also two veteran presenters, Maryanne Covington and Susan Glessner-Stickley, who began their college studies at Brandywine, formerly Delaware County, and had (former campus CEO) Ed Tomezsko as a chemistry professor."
Glessner-Stickley, president of Stratus, Inc. and a resident of West Chester, received a bachelor of science degree in chemical engineering, magna cum laude, at University Park in 1985.
Covington, associate director of discovery biology at Incyte Pharmaceutical Corporation and a resident of Cochranville, received a bachelor of science degree in microbiology at University Park in 1979.
enn State Brandywine, located at 25 Yearsley Mill Road in Media, offers baccalaureate degrees, honors and civic engagement programs, undergraduate research opportunities in collaboration with award-winning faculty, international study, varsity athletics and a variety of clubs and organizations.