Students who have worked tirelessly throughout the year on various undergraduate research projects showcased their hard work and creativity at Penn State Brandywine's annual Exhibition of Undergraduate Research Enterprise and Creative Accomplishment (EURECA) event on Tuesday, April 19.
Prepared to explain, and sometimes demonstrate, their research, the more than 60 students spoke with members of the campus about why they chose a certain topic, how they conducted their research and what they found.
The projects ranged in discipline from engineering and science to human development and family studies (HDFS) and literature.
Sophomores Latiful Hasan (engineering), Ashley Chan (interdisciplinary digital studio) and Douglas Hartline (chemistry), who is now at University Park, created a role-playing computer game called The Land of Wyberinnda (changing around the letters spells Brandywine) using Matlab's Graphical User Interface (GUI). Hasan and Hartline were in charge of research and coding while Chan designed all of the graphics. Users find themselves in an unfamiliar land and are challenged to defeat different monsters at the end of four levels before going on to beat the biggest monster at the end of the fifth.
Hasan said the team "applied how much we know about programming" to create the game. Combining their understanding of design engineering, coding and problem solving, the team helped EURECA guests play the game throughout the afternoon.
Junior Annabella Gallagher (HDFS) displayed her research project, "Gender Differences in the Relation of Moral Identity and Aggression." With the help of her faculty adviser Tia Kim, assistant professor of HDFS, Gallagher surveyed 292 adolescents in California to determine whether different personal identities were related to both physical and verbal aggression. They found that "moral identity is a strong predictor of aggression overall," Gallagher said. Next year, she hopes to conduct a study on campus exploring gender differences and dating violence among college students. "I think more awareness needs to take place on dating violence," she said.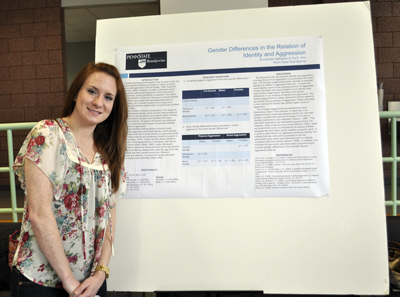 "We believe undergraduate research builds experiences that will be valuable in future careers and in preparation for graduate-level learning," Director of Academic Affairs Paul deGategno said in a letter to attendees. "The curiosity, creativity and commitment shown here act as a catalyst for true learning."
EURECA is an annual event, but was planned this year to fall near National Undergraduate Research Week, which began on April 11. To begin the celebration, 11 students, accompanied by faculty, presented their research at the Sigma Xi Conference at St. Joseph's University. They presented on various topics, such as "Cultural Experiences: How Men and Women React to Study Abroad," by freshman Sarah Demartino; "As Seen on TV: The influence of Television Perceptions of American Blended Families," by sophomore Allison Rodia and "Engineering Ethics: Case Study Approach in an Introduction to Engineering Design Course," by junior Sara Neville and sophomore Mridul Bhandari.
At the conference, "Students were able to engage in scientific discourse with their peers and professors from other universities," said Assistant Professor of HDFS Jennifer Zosh. "It was a great opportunity for students to talk about their research with someone other than their faculty advisers."