One family's tragedy has become one class' combined mission for prevention education.
Last December, four-year-old Isabelle Jean Wage-Sindon, along with her father and paternal grandfather, were killed in a catastrophic house fire in Binghamton, N.Y. The house had no smoke detectors.
In memory of her daughter, Isabelle's mother, Teresa Wage-Harrington, formed the Isabelle Jean Wage-Sindon Foundation with the mission to provide resources, information and education on fire safety for the community to prevent such a tragedy. But Wage-Harrington quickly realized she couldn't do it alone.
A longtime family friend of Wage-Harrington, Penn State Brandywine Instructor in Communications Karrie Bowen asked her Marketing 310 class to dedicate the spring semester to building, from scratch, a complete marketing campaign for the Foundation.
"Ultimately, this class project has been a real exercise in what service learning is, and more so, a way for my students to get their feet wet in the real world of public relations, marketing and working in the non-profit sector," Bowen said.
The end result was far more than anyone had expected.
"My students have risen to the challenge and developed a wonderful campaign, complete with grant writing, fundraising ideas and education and outreach," she said. "Many of these ideas are going to be put in place immediately, and several of our students have voiced an interest in volunteering for the organization well after the course ends."
The students presented their complete campaign to Wage-Harrington and her twin sister, Colleen Barton, to not only show what they had accomplished, but to get the Foundation off and running.
The campaign included a commercial, which the students hope will go viral on YouTube and will appear on television in Binghamton. They built a new media strategy, which includes a presence on Facebook (https://www.facebook.com/IsabelleJeanWageSindonFoundation) and Twitter (@PrincessToAngel), and created a website for the Foundation.
The students, who said they each spent at least two hours each day throughout the entire semester on the project, wrote several grant proposals and hope to receive funding from the Pepsi Refresh Project, FM Global, Duracell and even the United States Government, among others.
They designed a billboard, a "scare tactic" advertising campaign that educates people on the tragedies that result when prevention measures are not taken, fliers and a pamphlet on the Foundation to be handed out at grocery stores and to parents and they have planned events such as a fundraiser to be held next fall at a bowling alley in Binghamton. They designed bracelets and T-shirts for sale, and have already contacted sponsors. They also want to reach out directly to homeowners to make sure they're checking their batteries every six months.
One student even created the logo for the Foundation, which is a purple and pink crown in honor of Isabelle's love of Disney princesses. During the presentation, each and every student wore one of her favorite princess colors, purple or pink, in her memory.
One student said, "We didn't know we could care so much about this little person we don't even know."
Sophomore Aimee Ralph said to Wage-Harrington during the presentation, "This campaign means more to us than any grade."
Junior Vinny Gallo agreed. "We got to really work on [this project] for a good cause to help save lives (rather than the hypothetical campaigns they'd built before)," he said. "It's a really good feeling to work on something that means something."
The nearly 20 students in the class all felt the same way. Freshman Ryann O'Donnell said of her dedication throughout the semester, "I would want to go home and work on this," while junior Marissa Allen said, "I don't feel like this was so much work because we were so passionate about it."
But it was Wage-Harrington who was overwhelmed and moved by the students' hard work. "I'm really appreciative because I set out to start this on my own and I didn't know what direction to go in," she said through tears as she clutched her surviving young daughter. "[The students] have made this more than I could have ever done on my own."
Several students have expressed an interest in interning for the Foundation, while all of them plan to stay involved. "This project hit home for me," O'Donnell said of her desire to continue working for non-profits in the future. She said the project made her realize "this is exactly where I want to be, hands down. This is exactly what I want to do."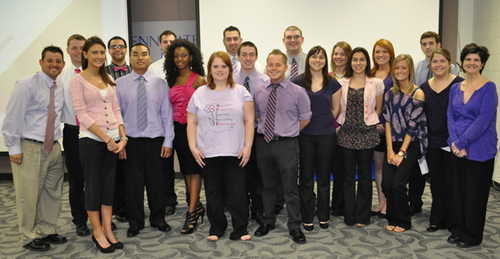 Teresa Wage-Harrington (center) is surrounded by students from Karrie Bowen's (far right) Marketing 310 class.