Penn State Brandywine athletes were recognized for another great season at the 23rd annual Athletics Banquet on Sunday, May 15, at D'Ignazio's Towne House in Media.
Laura Patton, intramural and fitness center coordinator, said the banquet was held to recognize student athletes who have performed well during the season both in the classroom and on the field of play. 
Steph Tracy won the John Egli Award, the most prestigious honor given annually by the Penn State University Athletic Conference (PSUAC). A male and a female awardee are selected from the more than 1,400 athletes in the conference to recognize their outstanding contributions as students, athletes and community members. The award is presented at a special banquet held at University Park. On hand to make the award this year was Tim Curley, director of athletics at Penn State University Park.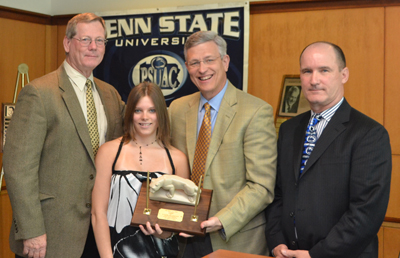 Left To Right: Ken Swalgin, faculty athletic representative (FAR) for the PSUAC; Egli Award recipient Steph Tracy; Tim Curley, director of athletics, Penn State University Park; Jim Gastner, director of athletics, Penn State Brandywine.
Tracy, who played for the men's soccer team for three years and ran cross country last season, said, "I am very honored to have even been nominated for [the John Egli Award], let alone to have received it. Coach [Jim] Gastner (campus athletic director) has always been supportive from the first day I set foot on his soccer field to try out on the men's team as a scared little freshman. I am proud of my accomplishment but I cannot and will not take full credit. Without Coach Gastner I would still be the same person I was as a freshman, scared, lacking confidence and convinced that I would fail out of college."
Tracy is finishing her current term as treasurer of Student Government, will be running cross country in the fall, will be eligible to receive USCAA All-Academic honors and continues to work with local animal rescue organizations.
Dan Cavaliere, a recent business graduate who won several awards, including the James King Memorial Award, the Unites States Collegiate Athletic Association (USCAA) Academic All-American Award, the PSUAC Academic All-Conference Award and the Four Year Athlete Award, shared his thoughts about Penn State Brandywine. "Penn State should understand the importance of athletics as well as academics as the University is attempting to grow," he said. "A university should be known for its athletics, academia and its ability to land graduates into jobs."
Cavaliere revealed his greatest memory of Penn State Brandywine. "My last college game and graduation were rather emotional as it brought sports and education to a close for me." Check out the latest "Brandywine Pride" Spring/Summer 2011 magazine for a complete story on Cavaliere at http://bit.ly/BPSP11 or http://bit.ly/BrandywinePrideSP11 (PDF).
One student athlete said, "During a career, you win many games, sometimes championships; but being recognized for character and leadership, those accolades are truly special. Along the way, I developed many friendships, saw new places and most of all, fulfilled my dream of playing a college sport. Athletics teaches individuals things they cannot learn in the classroom and I can say Penn State Brandywine has taught this veteran a few more things even during the last steps of his career."
Nine students were nominated for the James King Memorial Award, which recognizes a player having the qualities most desired in student athletes: scholarship determination, fair play, teamwork and athletic prowess. 
Head Basketball Coach Larry Johnson was named Coach of the Year by the PSUAC, and recently retired Associate Professor of Kinesiology Dan Doran received a special award for his continual support and dedication of the campus and athletics. Throughout the 40 years Doran was a member of the faculty, he was a championship coach, athletic director, mentor and friend to thousands of students.
Chad Thomas won the American Collegiate Hockey Association (ACHA) Academic All-American Award and teammate Kevin Lowthert won the All Atlantic Regional Team Award. Basketball player Rasheed Wilkins won the USCAA All-American Award and the PSUAC Newcomer of the Year Award.
by Dave Serpentine, senior