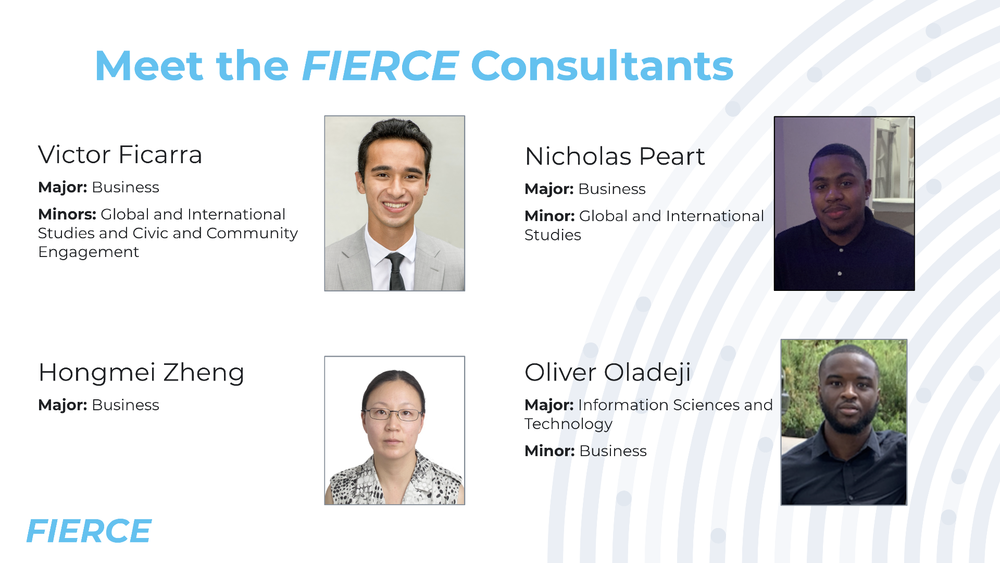 MEDIA, Pa. — Nearly 30 Penn State Brandywine students recently took part in PricewaterhouseCoopers' (PwC) Fiercest Competitor challenge — a strategic case competition that drives creativity, strategy and teamwork in a consulting landscape.
According to its website, PwC's professional services, including audit and assurance, tax and consulting, cover such areas as cybersecurity and privacy, human resources, deals and forensics. The global company helps businesses thrive by resolving complex issues and identify opportunities.
Seven Brandywine teams — comprised of business, cybersecurity, and information sciences and technology students — went head-to-head in the competition, developing leadership and team-building skills throughout the process. Each team was tasked with creating a new firm that could put PwC out of business. The teams had just five minutes to pitch their business ideas to PwC employees in a detailed, high-level presentation. The competition was done via Zoom, a remote video conferencing service.
Assistant Teaching Professor of Information Sciences and Technology Andy Landmesser was instrumental in organizing PwC's Fiercest Competitor case competition at Brandywine and served as a faculty coach for numerous campus teams.
"PwC employees Ray Mastre and Gladivel Then, who are both Penn State alumni, wanted to tap into the student potential at Commonwealth Campuses like Brandywine," Landmesser said. "They also felt that holding this competition at Brandywine would be a great way to get our students excited about applying for PwC internships."
Mastre and Then held three Zoom sessions for students. They spoke about what PwC provides its clients, gave students resume advice and provided guidelines for the competition. Each participating team also was given 30 minutes of mentoring time with Then prior to delivering their presentations.
"I think it's important for students to understand that when they graduate, they'll be competing against other recent graduates for jobs," Landmesser said. "The earlier they understand how to differentiate themselves, like they did in this activity, the better. Doing activities beyond the classroom can really help build their skill sets."
Team FIERCE, which stands for Forensic Internal and External Recovery by Cyber Experts, was Brandywine's winning team. FIERCE's members were students Victor Ficarra, Oliver Oladeji, Nicholas Peart and Hongmei Zheng. The team was awarded a meeting with a hiring partner at PwC for winning the competition.
Associate Professor of Business Julie Stanton, who served as one of the faculty coaches for team FIERCE, said that the team's business idea was to use artificial intelligence and machine learning to "analyze and detect risk across a broader array of sources," she said. "Instead of an hourly rate consulting model, they would design an AI-based tool that would deliver continuous, real-time support provided on a subscription basis."
"From these kinds of activities, students gain confidence in their ability to analyze business contexts, become more innovative and learn to work better in teams," she added. "There is a whole myriad of benefits for them."
Team FIERCE's other faculty coaches included Professor of Management and Business Veronica Godshalk and Lecturer in Accounting Christina Olear.
"I sincerely thank the three great professors for their tremendous support of our team," Zheng said. "They truly reflect the dedication of educators and they deeply care for the growth of students."
"This was a memorable experience that challenged us to be creative and innovative in a competitive and fun way, which I really enjoyed," Oladeji said.
"This experience opened our eyes to the skills and knowledge necessary for becoming a part of the emerging opportunities in consulting," Ficarra said. "Ray and Gladivel's enthusiasm while working with us showed just how powerful the Penn State alumni network truly is."
"This competition forced me to think outside the box and helped me learn more about PwC and the consulting industry," Peart said. "Our competitive spirit, willingness to accept the challenge and hunger to win made us the fiercest competitor."