Ten Penn State Brandywine students attended the National Center for Student Leadership Fall 2011 Conference in Miami, Fla. earlier this month. The conference consisted of three days of presentations and workshops that were aimed at offering students the opportunity to build upon the leadership skills needed to improve themselves as well as their campus communities.
The students were accompanied by Matthew Shupp and Ronika Money, director and assistant director of Student Affairs, respectively. Money noted that the event "not only afforded our students the opportunity to hear the voices of a variety of speakers from across the country, but also the opportunity to do self-assessment on their individual leadership abilities. While we like the idea of our students utilizing what they have learned to enhance the Brandywine community, we truly appreciate their utilization of their knowledge to enhance the world."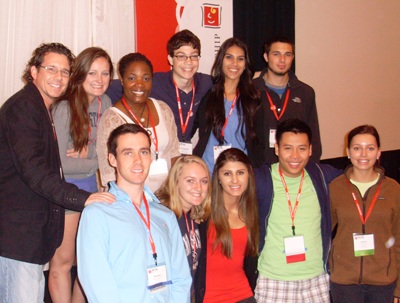 The event opened with a keynote presentation by speaker Alexis Jones. Jones, a former contestant on the hit TV series Survivor and now a business owner, shared her secrets for setting attainable goals and achieving them. Freshman Brendan Hayes-Oberst said she was "nothing short of phenomenal."
There were a variety of workshops offered at the conference that focused on teaching students success strategies that could be applied to any aspect of life. Topics ranged from overcoming frustration to defusing personality conflicts. Hayes-Oberst attended a workshop in which he learned how to "get up after falling down and how to learn from my mistakes."
One workshop sharpened students' skills on how to mingle, meet new people and make contacts. Another taught students how to de-stress by breaking complicated tasks into simpler ones.
Participants learned how to effectively work in a group and how to help others understand their accountability within a group. According to Hayes-Oberst, Brandywine student attendees "gained many valuable tools" from the conference that will serve them well in the future.